There were tears and smiles in equal measure at Farnham College today after students gathered to collect their A Level and B-Tech results.   
While most students opted to open their results in the privacy of their own homes - or on a beach soaking up the summer holiday rays - a few nervous students decided to open their results in person.
Laura Bullock was one of the college's top performers, achieving A grades in Psychology and Biology, and a C in Chemistry. Laura is delighted to have been accepted into the University of Sheffield, her first choice, where she will be studying Biological Sciences.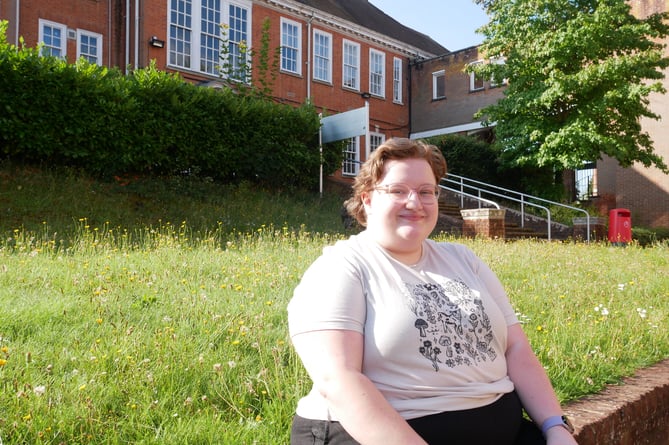 Laura Bullock, Farnham College's top performer
(Louise Bunner)
"I am ecstatic about my results," said Laura. "It was a long journey to get my A Levels because of health reasons meaning I had to take a year off. But I worked really hard for them and I am really happy to have proved myself.
"I found Farnham College to be a great place to study. I am autistic so got learning support and the tutors were really great. It has been a really positive experience." 
Laura has big plans for her future. She plans to go into research or become an NHS geneticist after her time at Sheffield university.
It wasn't only students receiving good news today; out of the 15 A Level subjects offered at Farnham College, 11 secured a 100% pass rate, an increase on last year's ten.  
The college's Art and Design department maintained a 100 per cent pass rate for the third consecutive year, with 86 per cent of students achieving an A*- C grade.  
The Photography department achieved a 100 per cent A*-C grade pass rate, surpassing the national average for this subject area by five per cent and exceeding the grades attained in the pre-pandemic year of 2018/19. 
Mathematics students also secured a 100 per cent pass rate, achieving 5.4 per cent above the national average.   
Cheri Ashby, Deputy Chief Executive Office at Activate Learning, said: "I'm delighted for all the students across Activate Learning today who are collecting the results they need to go on and accept their places at university, take up an apprenticeship or enter employment with training. I know how hard everyone has worked and I want to extend my heartfelt congratulations to our students and appreciation and gratitude to our staff.'' 
"I recognise that for some, today's results may be disappointing and there will be some who may not have quite achieved the results they anticipated. If this is the situation for you, please know that Activate Learning is here to help. 
"Let's come together as a community, supporting each other through the ups and downs. To all our students, your accomplishments deserve celebration and recognition, and we're excited to see where your journey leads next."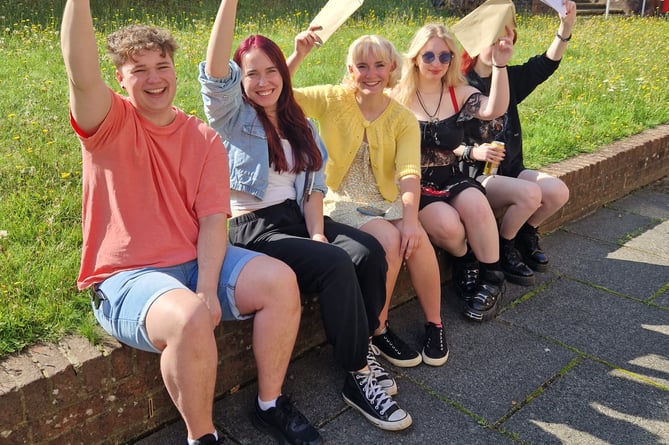 From left to right: Lucas Powell, Lauren Prince, Lottie Thurman, Miranda Sheard and Jess Huntley
(Louise Bunner)
Miranda Sheard is heading to the University of Sussex, her first choice, to study English Literature after her hard work got her an A in Media Studies, a B in English Literature and a Distinction in Drama.
Miranda said: "I am so happy and relieved to have received these great results today. I had a lovely experience at Farnham College and worked hard but received so much support and encouragement from the amazing staff here. I am excited about my future."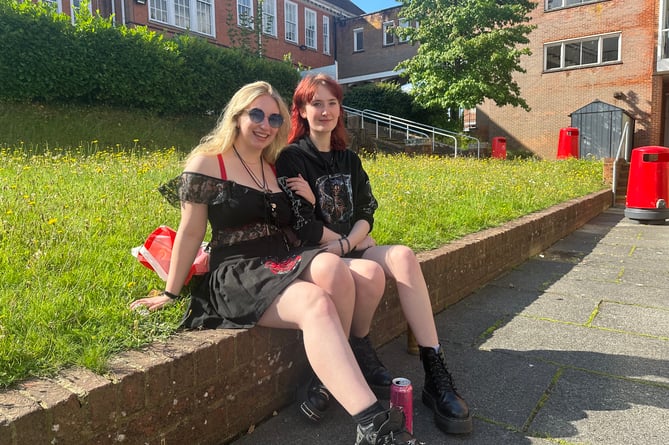 Miranda Sheard and Jess Huntley who are both off to study English Literature and their first choice in University
(Georgia Hase)
When asked what Miranda plans to do to celebrate her results she said she plans to drink lots of alcohol and head to Guildford this evening for a celebratory night out with the other students in the area.
Lucas Powell was thrilled to find out that he will be able to accept his first choice place at Royal Holloway, University of London, to study Classical Studies and Drama thanks to his B in English Literature, C in History and a Distinction in Performing Arts.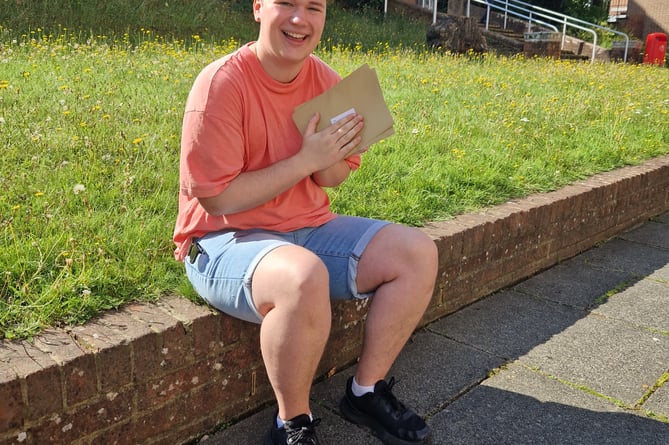 Lucas Powell and his results
(Louise Bunner)
Abi Hudson is off to study Architecture in September at Portsmouth. She received an A in 3D Architecture as well as a B in Fine Art.
Abi said: "I am happy that I achieved these grades after all the hard work I put in! I can now go to my first choice university and I look forward to what the future holds for me.  
"Farnham College was great for me, really supportive, and I benefitted from being in a smaller group. I'd like to thank my tutors for all their help and encouragement."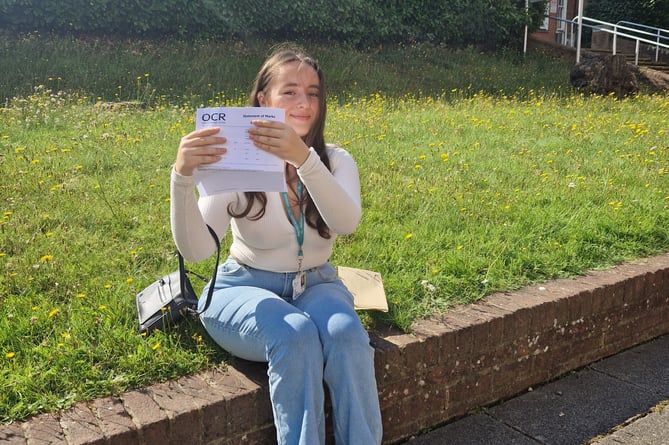 Abi Hudson: The budding architect
(Louise Bunner)
A Level and B-Tech student, Lauren Prince, was pleased to achieve B grades in Media and 3D Architecture and a Distinction in Performing Arts. She plans to stay in Farnham and study Film Production at the University for the Creative Arts. 
Lauren said: "I was so nervous this morning! All my hard work has paid off and I am excited to be able to accept a place at my first choice university. I'm really relieved and am now going to celebrate!"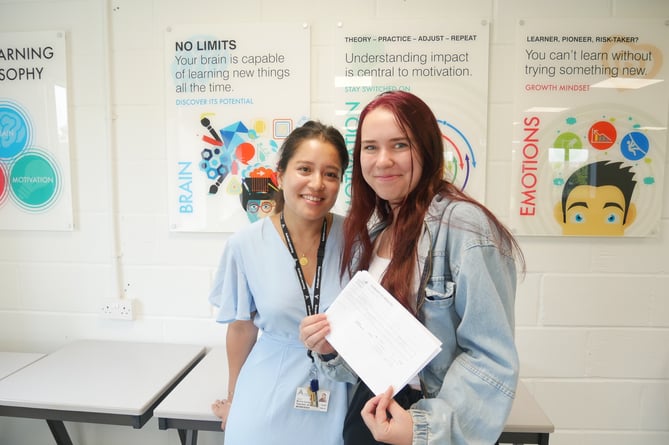 Lauren Prince with Media tutor Merina Gurung.
(Louise Bunner)
Rupert Sheard is both a parent and teacher at Farnham College. He has taught History and Sociology at the college for three years and is the father of Miranda Sheard, who is going to the University of Sussex to read English Literature.
"All the A Level students this year are amazing characters, and they've had a lot of trials through GCSEs and A Levels, but I'm really pleased and proud of their achievements," said Rupert. "They are wonderful, loving and caring, and are a real credit to their age group and Farnham College."
Rupert added: "Farnham College is a very special place and I am very proud to be a teacher here and also send my daughter her."