All-female cast brings an extra quality to Alton Fringe Theatre play
Saturday 13th August 2022 11:00 am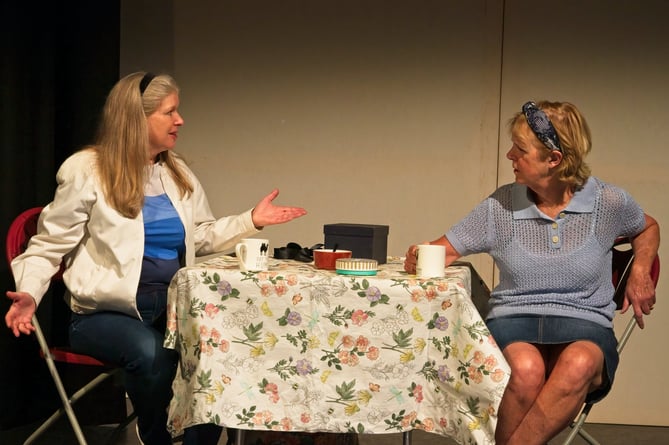 A scene from Top Girls
(Alton Fringe Theatre )
Subscribe newsletter
Subscribe to our email and get updates right in your inbox.
Is there something about an ensemble of women actors that brings an extra quality to a production?
Being enthralled by Alton Fringe Theatre director Cath Gerlach's all-female cast for Caryl Churchill's Top Girls, the evidence for that is powerful.
Top Girls is challenging; its timelines confused, slipping from reality to imagination; the opening scene of Marlene with her fantasy dinner guests must carry the audience, and they achieved it magnificently.
We believed every one of those women's stories, and themes emerged; Griselda and Nijo with their children taken from them (linking to Marlene giving her baby to her sister), death of children (Gret, Nijo, Joan), loss of husbands and partners (Nijo, Griselda, Isabella Bird and Joyce).
The themes overlapped, with differences emerging – Nijo and Griselda accepting cruelty from their menfolk, Gret avenging to the mouth of hell and beyond. The dinner party themes were pointers and there was humour and pathos in equal measure.
The relationship between Joyce and Marlene was beautifully portrayed by Sarah Castle-Smith and Barbara Guilding – there was real no-holds-barred resentment and lack of understanding but an underlying connection was evident that would never be severed.
We have come to expect solid performances from Sarah, Barbara, Louise Biddiss and Jo Hopkins, all experienced actors, and they supplied them in spades.
Relative newcomers Susie Gow as Dull Gret/Nell and Jane Quicke as Lady Nijo/Win, Jane Samways as Pope Joan/Louise and Lou Moore as the disapproving waitress/Angie brought great skill and creative insight. Susie particularly impressed with her comedic skills portraying Gret and Nell, both of which had comic potential to match her abilities.
Marlene is the lynch-pin to the drama, played by Barbara as in turn charming, demanding, drunk, tough, harsh, troubled, weepy and humorous.
Marlene has to hold it all together and Barbara did it with confidence and a range of dramatic technique, including a polarising row in Act Three against Joyce's support for the working class and those who can't aspire to succeed like Marlene.
The programme did not credit anyone for the costumes but a lot of thought went into them and they were superb.
Altogether a wonderful evening; great credit must go to Cath Gerlach who had the concept and brought it together. The packed audience loved Top Girls, singing along with the music between scenes and bursting into enthusiastic applause. What more could you want?
Comments
To leave a comment you need to create an account. |
All comments 0