A TREE which has dominated the centre of Sheet for more than a century could be set for the chop amid fears about its long-term future and safety. 
The axe is looming over parts of the horse chestnut as a large split appeared in the landmark tree last Monday.
A resting cyclist ran into the Queen's Head to report the split – which sounded like a rifle shot – with calls being made to evacuate the pub and surrounding homes.
The trunk was strapped up and several branches were removed during emergency work with the green being sealed off for the foreseeable to long-term future. 
Sheet Parish Council, which is responsible for the tree, has been forced to make a difficult decision as it appreciates its important place in the village landscape.
Felling has been ruled out for the time being but it's very much a case of safety first with a radical trim being planned.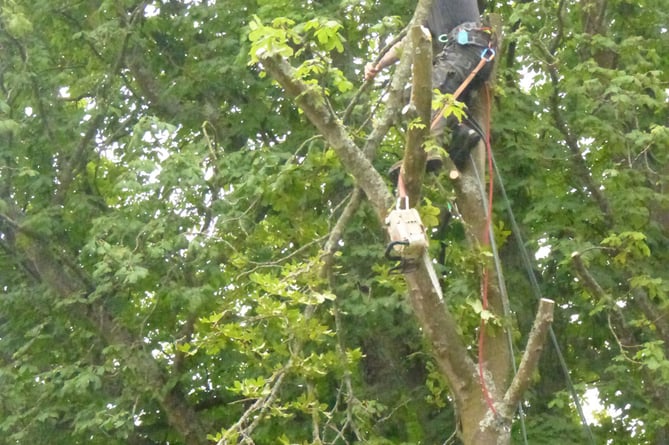 Tree surgeons carry out emergency work on the Horse Chestnut on Sheet village green.
(Lucy Pringle)
"We've done everything we can to protect and nurture the tree but the responsibility is ours," said Councillor Gail Martin.
"I know how we would feel if there is an accident. 
"I would hate to see that tree cut down but we have to take this question of public safety very seriously."
The scene which has been unchanged for decades will soon become a memory as there are plans to reduce the crown by around a third to lessen its weight and make it less lopsided.
The reduction – which will leave the "mature to overmature" tree looking like a cauliflower – will reduce stress and make the trunk easier to band but there's no guarantee it will respond well to change in its later years.
The horse chestnut has a fungus infection but the damage was accelerated by Storm Antoni as trees are most susceptible to gales when they have leaf cover.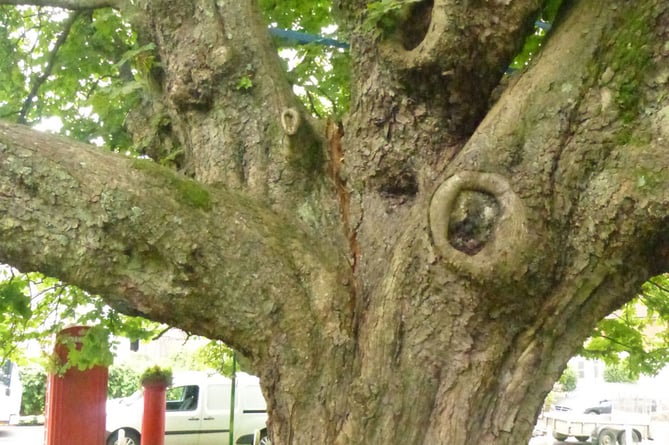 Part of the truck has been strapped up to prevent further splitting.
(Lucy Pringle)
Sheet resident Lucy Pringle told the Post that concerns about the stability of the tree had been expressed in June with professional advice being sought. 
There has been a horse chestnut on the village green since 1897 as one was planted to mark Queen Victoria's Diamond Jubilee. It was replaced two years later with a non-fruiting variety as it was "vandalised" by children who kept climbing it for conkers.