Numbers often baffle me, especially those related to 'deep time', that is, those billions of years before human beings appeared on earth.
I can't get my head around the immensity of it all. So, when Thomas Halliday in his book Otherlands offered a way of imagining those numbers, I was extremely grateful.
This is what he suggested: imagine a 24-hour clock face. When both hands are upright on the '24', that is when the planet we call earth began, about 4.5 billion years ago.
Now let the clock run forward – for every minute that passes, three million years go by. The main period when creatures like plesiosaurs became extinct was at about 23.39. Written human history began when there was one-tenth of a second left before the hands of the clock reached 24.
It makes me feel giddy. I am bewildered. Dumb struck.
But I guess that the picture might also leave us feeling humble. We, who are so self-concerned, so pleased with ourselves, have only existed within this vast time-scale on earth for the duration of the blink of an eye.
And yet my breath is also taken away when I contemplate the fact that the earliest life-forms which came into existence about 550 million years ago eventually gave rise to human beings who are conscious and indeed, self-conscious.
This incredibly long process has resulted in beings who can think, imagine, and communicate with words. It is nothing less than awesome.
In the light of this, what are the questions that spring to mind? I am genuinely not trying to predetermine your answer, but might the picture I have offered lead you to think that there could be a Being who gave birth to all of this, or does it leave you feeling that everything that exists is the product of meaningless chance?
Bishop Christopher Herbert is the former vicar of The Bourne near Farnham, Canon of Guildford Cathedral and Bishop of St Albans.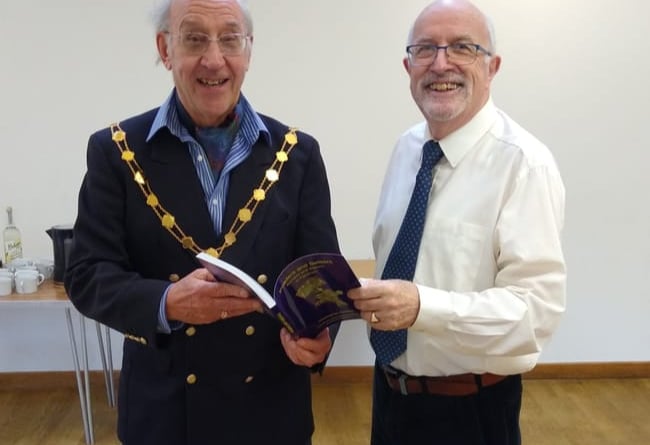 Waverley mayor John Ward with Bishop Christopher Herbert (right) at the latter's book launch at the Museum of Farnham last October
(Tindle )