I ran out of space last week so here is the news I wanted to give you then, plus a bit more. 
Although on the face of it very little seems to be happening, there is in fact a lot going on. 
Agents Park Steele have been completing deals very quickly on every retail property they have been instructed on. 
Also, Curchod & Co has, once again, been announced as Surrey's most active commercial property agent by The Estates Gazette, the country's leading commercial property weekly. 
I reported in August last year that La De' Kitchen had taken the former Laura Ashley unit in Lion & Lamb Yard. They were granted planning permission on February 10 for their branded signage but have been very quiet, with no activity I have been aware of in the yard. I await further details.
For some time I have been monitoring a posting for a restaurant business and lease for sale in Farnham. Prompted by the forthcoming arrival (timescales to be determined) of Megan's, La De' Kitchen, Harris & Hoole and those interested in the former Bloom restaurant, I have been researching the numerous businesses and their premises to try to ascertain which one is being advertised. 
The agents have promised to inform me as soon as a contract with any interested party has been signed. Watch this space.
Herald general manager Eddie Pearce with Hoxton Bakehouse manager Becky Ellison prior to the Herald delivering free drinks and pastries to vaccination hub staff at Farnham Hospital in 2021
It is with some sadness I have to report that Hoxton's at 6 West Street have closed permanently. The notice on their door thanks customers for their loyal support over the past 17 months. Exchanges of messages with the founder of the chain told me they couldn't get the trade to cover the overheads. 
He accepted the interior and the layout hadn't been as successful as they'd liked and went on to say "we are completely gutted as a company to lose Farnham but just couldn't afford to continue to operate".
72 Castle Street is back on the market. It seems like only a couple of years ago that Greenwood's moved in. None of this is helping the vacancy rate remain where we want it.
The fitting out of the Devotea bubble tea shop at 8 East Street started last week. More detail after I have spoken to the owner of the business.
I could write a whole article on Brightwells but I would find myself saddened and despondent, like one of my friends who looked at the development site for the first time for a couple of months and commented: "It is so very sad, they have taken the heart and soul out of Brightwell House and the gardens."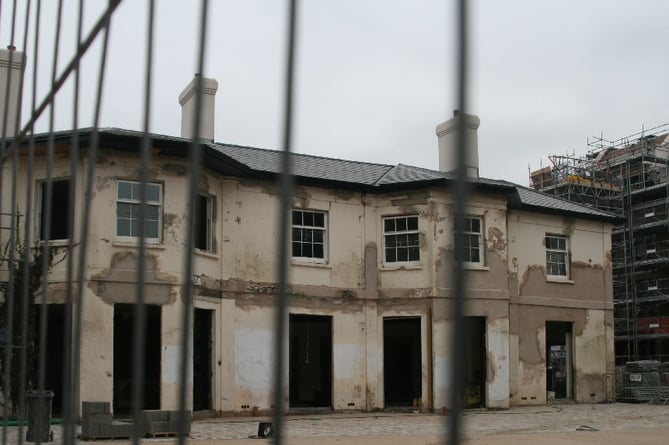 Brightwell House as of March 2023
(David Howell)
I have heard The Georgian Society have expressed concern at the 'goings on' at Brightwell House and want a stop notice put on the work there. You will have read about the trashing of the windows and the incorrect reinstatement and almost artificial appearance of the roof. 
I am completely bewildered at how Waverley and Surrey could have allowed this situation to develop. 
The date for handover for Coppa Club must be pushed back. The restaurant was to open in July, we were told, then September. Will it be this year?
There is a considerable amount of work to be completed and if Waverley, the responsible authority, do what they should do, parts of the roof need to be reconstructed. There is an outside chance that Waverley's planning enforcement team will have to take action against Waverley Borough Council. 
The Herald online reported at the beginning of February a spokesman for Crest saying: "The work on Brightwell House is expected to be complete in a few months, when we will be delighted to showcase the renovated building and welcome Coppa Club to Farnham to begin their fit-out." I wonder whether Coppa Club will have the patience to stay the course?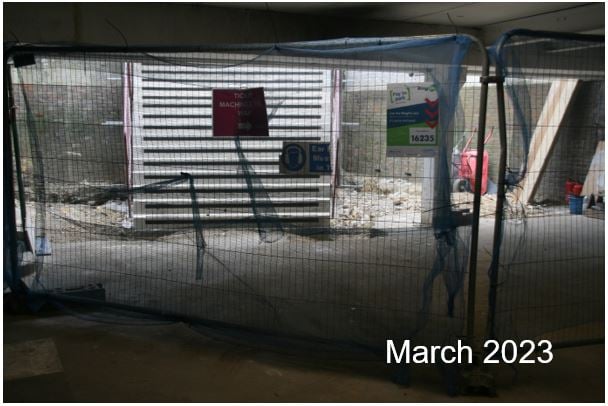 Sainsbury's South Street car park staircase as of March 2023
(David Howell)
Have you used the lower deck of the South Street Sainsbury's car park recently? Work installing the staircase up to connect to Cambridge Place seems to be taking for ever. They started in September last year and by the look of things will need another couple of months to complete the work to the staircase and refurbish the lift.
Another planning application has been submitted for changes to Section 106 of the works agreement that the developer (our favourite, Crest!) were going to do. Below is an extract from one of the drawings. Why on earth did they want to relocate the existing bus stop to outside the entrance to Cambridge Place and the Slug and Lettuce, and would you believe provide two spaces? One would guess to benefit their lovely (!) new flats. 
I just hope common sense will prevail now...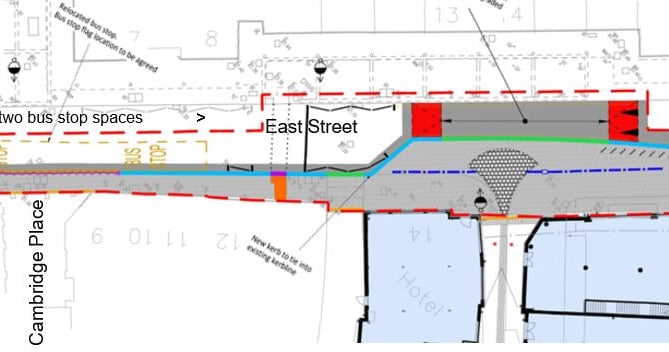 Crest Nicholson's original East Street bus stops proposal
(Crest Nicholson)