Welcome to our ultimate guide to the festive season in South West Surrey and East Hampshire!
Get ready to jingle all the way as we explore the merry happenings from Christmas lights switch-ons to magical markets and enchanting performances.
It's time to immerse yourself in festive spirit and make the most of this joyous season.
Farnham's Christmas Lights Switch-On – Get ready for a magical kick-off to the festive season in Farnham on November 18. The town will be buzzing with excitement as the official countdown to Christmas begins with the switching on of the Christmas lights (pictured). Starting at 1pm at Gostrey Meadow, enjoy free live entertainment featuring performances from local schools, theatre groups, and bands. It promises a magical afternoon with fairground rides, face painting, a live nativity scene, and a craft table. Don't miss Santa in his cozy grotto with a free gift for every child. The highlight will be at 4.30pm when the special guest flips the switch to light up Farnham for Christmas.
Farnham Maltings Christmas Fair – Immerse yourself in festive cheer at Farnham Maltings Christmas Fair. With over 100 independent stalls offering handmade gifts and crafts, delicious food, and beverages, it's one of Surrey's biggest events. The fair runs from 10am to 9pm on Wednesday and 10am to 5pm on Thursday.
Experience Christmas at Randalls at Jane Austen's House in Chawton – Dive into the enchanting Christmas scenes from Jane Austen's novel Emma, brought to life with specially commissioned audio, decorations, and scents.
Follow the story of Emma's Christmas Eve dinner at Randalls through a room-to-room audio installation, with immersive sounds and scents, from creaking carriages to roaring coal fires, echoing the motifs in the story.
Christmas at Randalls is included with house admission.
Alton's Christmas Lights Switch-On – Alton is gearing up for a fun family event on November 24. From 3pm to 7pm on High Street, visit Father Christmas for free, enjoy live music, street food, Christmas gift stalls, art, craft stalls, and more. The town will come alive with festive spirit, making it a perfect outing for families – just don't expect any giant flashing marmots this year!
Christmas Light Switch-On in Petersfield – Mark your calendars for Petersfield Town Council's annual Christmas light switch-on event in the Square on November 24 from 5.30pm to 7pm. Ideal for families, the event features markets, music, and song to bring the holiday spirit to Petersfield.
Wrestler Astrid the Viking and then-town mayor Cllr Lesley Farrow switch on Petersfield's Christmas lights
Queen Elizabeth Country Park's Christmas Market – Kick-start your festive shopping at Queen Elizabeth Country Park's Christmas Market on November 25 from 11am to 4pm. Enjoy a range of handmade gifts crafted by local artisans. While the market is free to enter, standard car parking charges apply.
Fernhurst Hub Christmas Fayre – On November 25 from 10am to 1pm, don't miss Fernhurst Hub's Christmas Fayre. Explore stalls selling jewellery, ceramics, candles, local honey, and more. Red Card Sussex, a local author, and other vendors will offer a delightful range of gifts.
An Evening of Winter Warmers – Warm up your winter with an evening of music on November 25 at Alton Maltings. Starting from 7.30pm, the Alton Concert Orchestra invites you to enjoy a diverse selection of music, including festive classics, Mozart, Alan Menken's Aladdin Suite, Gershwin's American in Paris, and more.
Alton Vegan Market - Festive Special – On November 25 from 10am to 3pm, Alton High Street transforms into a festive haven for the Alton Vegan Market – Festive Special. This event brings together vegan street food vendors, artisan bakers, craft brewers, and more. Everyone is welcome, not just vegans.
Christmas Illuminated Garden Adventure at West Green House – Explore the magical mile-long Christmas Illuminated Garden Adventure at West Green House near Hartley Wintney, where thousands of lights illuminate the trail, telling the enchanting story of Alice in Wonderland through spectacular installations. Along the sparkling path, indulge in warming drinks and hot food in festively adorned cabins, creating a whimsical experience for visitors of all ages. Book tickets at: https://www.westgreenhouse.co.uk/christmas/
Surrey County Youth Orchestra & Surrey County Youth Wind Orchestra Winter Concert – Join the Surrey County Youth Orchestra and Surrey County Youth Wind Orchestra on November 26 at Farnham Maltings Great Hall. The concert, starting at 3pm, features performances by some of Surrey's finest young musicians, showcasing a varied repertoire.
A Christmas Carol Experience – See the magic of Dickens' classic ghost story, A Christmas Carol, come to life at the Phoenix Theatre in Bordon on December 1. The award-winning Dyad Productions presents this festive show, bringing the timeless tale of Ebenezer Scrooge's redemption to life. The performance promises mistletoe, merriment, and a heartfelt reminder of the true meaning of Christmas.
Carols in the Courtyard – Get into the holiday spirit on December 2 at Petersfield Museum with Carols in the Courtyard. Starting at 4.30pm and running until 6pm, join Alder Valley Brass for a magical evening of festive singing. Enjoy mince pies and mulled wine, and let the music of the season fill the beautiful courtyard.
Christmas Extravaganza at the Museum of Farnham – On December 2, the Museum of Farnham welcomes you to a Christmas Extravaganza from 10am to 4pm. Priced at £8.50 per child and £1.50 per adult, the day is filled with festive cheer for the whole family. Activities include a magical grotto, a meet-and-greet with a real-life little donkey, interactive workshops, Christmas crafts, and a Christmas-themed trail through the Georgian townhouse.
White's Christmas Craft Fair at Gilbert White's House – Visit Gilbert White's House & Gardens on December 2 from 10.30am to 3.30 pm for the White's Christmas Craft Fair. For £4 per person (under 5s go free), explore stalls at the 16th-century barn selling locally handmade gifts. Enjoy yuletide performances, traditional mulled wine, and festive treats.
December 2, 3, 9, 10, 16, and 17
Christmas at the Museum 2023 – Experience the enchantment of Christmas at the Rural Life Living Museum in Tilford on December 2, 3, 9, 10, 16, and 17. The event features a steam-hauled train ride to visit Santa in his grotto, a Christmas and vintage market for last-minute gifts, and festive decorations throughout the museum. Book your tickets early for a magical day out.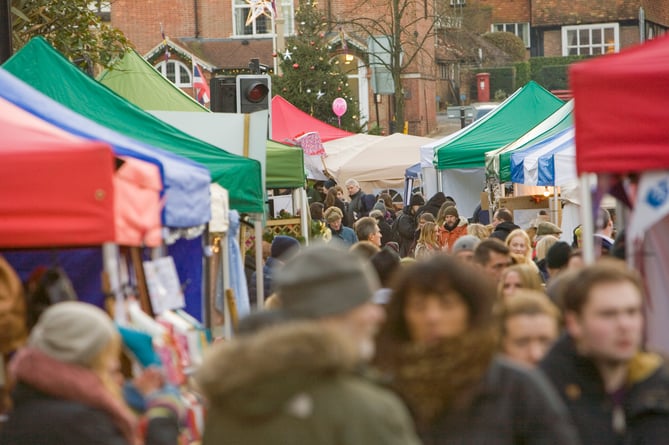 Haslemere Christmas Market returns on Sunday, December 3
(Haslemere Events)
Haslemere's Annual Christmas Market – On December 3, Haslemere's town centre and Haslemere Museum come alive with the Annual Christmas Market from 10am to 4pm. With around 200 stalls offering gifts and refreshments, the market promises something for the whole family. Enjoy a free Hoppa service from various locations for added convenience.
Christmas Cracker Fair at Alton Community Centre – Alton Community Centre hosts the Christmas Cracker Fair on December 3 from 10am to 2pm. This free admission event boasts over 45 stalls selling crafts, homewares, gifts, and treats. Don't miss Santa's Grotto, live music, Christmas movies, and free children's activities for a festive day out.
Phoenix Community Choir: Christmas Concert – On December 7 at Phoenix Theatre in Bordon, join the Phoenix Community Choir for a delightful Christmas Concert at 3pm. Enjoy an afternoon of music and fun as the choir performs festive songs, spreading holiday cheer. Admission to this event is free.
White's Christmas Concert at Gilbert White's House – Celebrate the festive season with joyous traditional Christmas music at Gilbert White's House in Selborne on December 7. From 7.30 pm to 9.15 pm, Otterbourne Brass Band will fill the atmospheric 16th-century barn with festive tunes. Tickets are £16 per adult and £10 per child, including a glass of mulled wine or spiced apple juice.
Clare Teal's Festive Fiesta at Farnham Maltings – Award-winning jazz vocalist Clare Teal returns with her Festive Fiesta at Farnham Maltings' Great Hall on December 7 at 7.30 pm. In its 15th year, this Christmas show promises an uplifting blend of sparkling Christmassy songs and Clare's own original material. Get ready for a dazzling evening of inspired music and entertainment.
Christmas Celebration in aid of the Hunter Centre – Experience a heart-warming Christmas Celebration on December 7 at St Christopher's Church in Haslemere at 7pm. Featuring The Winterbourne Singers, the event includes music, poems, mince pies, and mulled wine. Tickets and more information are available from Denise Sawcuk at [email protected] or 01428 654710.
5T's Brass Christmas Concert at Phoenix Theatre, Bordon – On Friday, December 8, at 7.30pm, immerse yourself in the festive sounds of brass with 5Ts Brass Christmas Concert at Phoenix Theatre in Bordon. Explore a musical journey spanning centuries, from the 16th century to Abba and the Beatles, as well as  traditional Christmas favourites. Book your tickets by calling 01420 472664 or online.
Wonder of Christmas Concert by Alton Choral Society – On Saturday, December 9, starting at 7pm, head to Alton Maltings for the Wonder of Christmas Concert presented by Alton Choral Society. This annual Christmas concert showcases the talents of Alton Concert Band, Alton Choral Society, and Ancora. Enjoy well-known carols and participate in the festive atmosphere. Admission is free, but tickets are required and can be obtained from November 10 via the booking link at www.altonchoral.org.uk
Rushmoor 'Odd Fellows' Male Voice Choir Christmas Concert – Experience a fun evening of seasonal entertainment and music on December 8 at Farnham Maltings Great Hall. Starting at 7.30pm, Rushmoor 'Odd Fellows' Male Voice Choir will present a diverse program ranging from male voice classics to show tunes and popular songs, including Christmas favourites. This year, the concert supports Farnham ASSIST, a charity providing support to older people living alone. Ticket prices are £15, which includes a program. Book your tickets now for an evening of joy.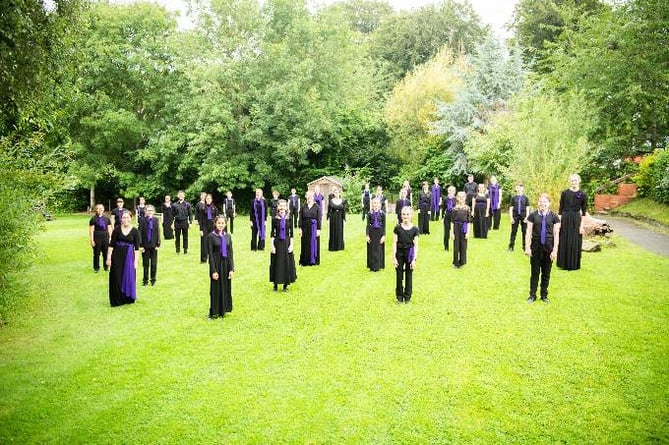 The internationally-acclaimed Farnham Youth Choir will perform its Christmas concert at Farnham Maltings on December 9
Christmas with Farnham Youth Choir at Farnham Maltings Great Hall – Join the family of FYC choirs on December 9 at 6pm for their annual Christmas concert at Farnham Maltings Great Hall. The concert features 60 singers aged seven upwards, led by artistic director Patrick Barrett. Enjoy a variety of festive songs and familiar carols in a concert that showcases over 35 years of choral excellence. Ticket prices are £15 for adults, £5 for under 16s before November 20 (thereafter £20, £10 under 16s). Take advantage of the early-bird ticket offer before November 19. Book your tickets now for a magical musical experience.
Petersfield Christmas Festival
The Petersfield Christmas Festival is back, again organised by Petersfield Community Events. The festivities kick off with live music from 7pm on Saturday night, and Sunday brings the town alive with wonderful stalls, food, and live music for the whole family. The Square in Petersfield will be the place to be for a festive weekend.
Christmas Tree Festival at St Lawrence Church, Alton – Visit St Lawrence Church in Alton on December 9 and 10 to witness a magical display of over 60 beautifully decorated Christmas trees. Enjoy festive refreshments, a tombola, and live music from the special church organ. The festival runs on Saturday from 10am to 4pm and Sunday from 12pm to 4pm. Free entry with donations supporting The Alton & District Community Relief Foundation and Homestart.
Beauty and the Beast Pantomime – Pumpkin Pantos presents Beauty and the Beast at Alton Assembly Rooms on December 9 and 10 as well as from December 15 to 17 at Forest Community Centre, Bordon. Immerse yourself in this enchanting tale with stunning scenery, lavish costumes, memorable songs, and laughs galore. Choose from multiple performance times and ticket options. Don't miss this spectacular production filled with holiday magic.
Farnham Christmas Market – Mark your calendar for the Farnham Christmas Market on Sunday, December 10, organised by Farnham Town Council. With an incredible 200 stall applications, this market promises to be one of the largest Christmas markets in the South East. Stretching from Castle Street and The Borough through to The Bush Hotel and Ivy Lane Club, it offers a festive extravaganza for everyone.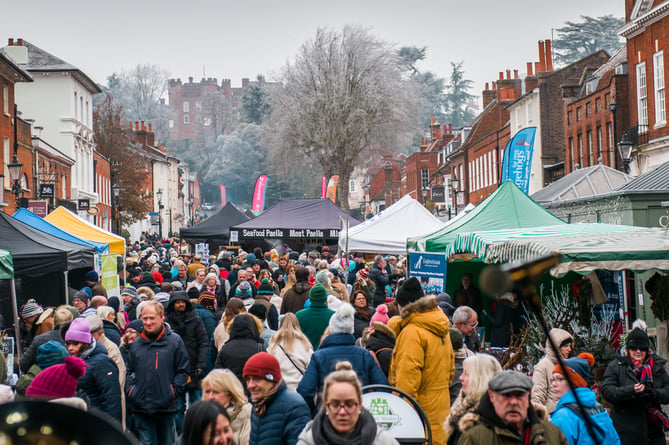 Farnham Christmas Market
(Natalia Sharomova)
The Christmas Lobster at Farnham Maltings' Great Hall – From December 13 to 24, immerse yourself in the world of festive detectives with The Christmas Lobster at Farnham Maltings' Great Hall. Presented by The Society for Christmas Creatures, this hilarious family-friendly show takes you on a brave adventure in search of the elusive Christmas Lobster. Packed with songs, gags, and Christmas cheer, it's a must-see. Ticket prices range from £10 to £25, with group and members' discounts available.
Christmas Market at The Shed, Bordon – From Friday December 15 to Sunday December 17, The Shed's seasonal Christmas Market is back for its third year running, and this year it's even bigger than ever. With traders opening for the Friday afternoon and across the weekend, there'll be hot food and drinks as well as local crafts and gifts available for everyone. Music will be provided by  local choirs, with entertainment from the Phoenix Players and Shed favourite Stephanie Belle, plus a nativity farm with real animals, donkey story-time sessions and a reindeer bucking bronco on the Saturday. Open 4pm to 8pm Friday, midday to 8pm Saturday, and 10am to 2pm Sunday.
Santa's Victorian Parlour at Haslemere Educational Museum – Visit Santa's Victorian Parlour at Haslemere Educational Museum from December 16 to 23. Santa takes time out before Christmas to relax in his charming Victorian Parlour, and children receive a special gift. Tickets are available for various time slots, providing a magical experience for families. Prices range from £4 to £5 for families with one child.
Glimmering Gardens at Chawton House – From December 18, the gardens at Chawton House will be lit up and open to explorers from 3pm to 6.30pm each evening for the Glimmering Gardens display. The Old Kitchen Tearoom will be serving up delicious winter treats, from Christmas cream teas to gingerbread lattes. Find out more and book tickets at: www.chawtonhouse.org/whats-on
Mummers Traditional Play at Haslemere Educational Museum – On December 16 at 11am, experience 20 minutes of family fun with the Mummers Traditional Play at Haslemere Educational Museum. Entry is by donation, and no booking is required. Enjoy the festive spirit with this traditional play in a historic setting.
Reindeer Run 2023 at Alton Rugby Club – Get ready for the first Alton Reindeer Run at Alton Rugby Club on Sunday, December 17, from 9am to 10am. Join Rudolph and friends for a 3km Reindeer Run, wearing antlers and raising funds for St Michael's Hospice. The entry fee includes reindeer antlers, an exclusive Reindeer Run medal, and a fully marshalled route. Prices are £10 for adults and children.
Hansel & Gretel at Phoenix Theatre, Bordon – From December 18 to 29, Oomph Theatre and Phoenix Arts present Hansel and Gretel at Phoenix Theatre in Bordon. Join the adventure of the two siblings lost in the woods as they save the land of Faerie, defeat the evil witch, and find their way home. This live theatre production blends dynamic storytelling with digital technology, offering an exciting mixed media experience. Tickets are £5 plus a £1 booking fee. Book your tickets now for a festive feast of fun.
A Christmas Carol at Petersfield Museum – On December 20, from 2.30pm to 9.30pm, experience the timeless tale of A Christmas Carol at Petersfield Museum. Join Charles Dickens as he brings to life the famous ghost story of revenants and redemption. Tickets are £12 for adults and £8 for children. Presented by Don't Go Into The Cellar Theatre, this one-man performance promises a captivating evening.
Festive Family Fun Day – Celebrate the holiday season on December 22 from 11am to 4pm at a Festive Family Fun Day at Petersfield Museum. Enjoy festive crafts, snowball fights in the police cells, a rocking jingle disco, gingerbread man decorating, and more. Normal admission prices apply for a day filled with holiday cheer. Don't miss Father Christmas making one of his last appearances before the big night.