Get your dancing shoes on and your rave gear ready because Big Fish Little Fish family rave is coming to Farnham Maltings on Sunday, March 12!
The UK's favourite family festival, Camp Bestival, and original family ravers, Big Fish Little Fish (BFLF), have teamed up to host a legendary family rave tour, offering award-winning entertainment for kids of all ages.
This year's tour is extra special as it marks BFLF's 10th birthday and Camp Bestival's 15th anniversary.
Family ravers can expect a party like no other, with DJ duo Baker & Beale, consisting of Iain Baker (Jesus Jones, Xfm, NME Radio) and Dylan Beale (Rude & Deadly) behind the decks at the Maltings.
Little ones and adults can throw shapes on the dancefloor, get creative in Camp Bestival's craft area, and take a breather between sets filled with giant balloons, bubbles, and foam.
Founder of Camp Bestival, Rob da Bank, expressed his excitement: "It's always a huge buzz working with Hannah and the team adding a splash of our Camp Bestival magic across the UK before we get lost in the festival mayhem, we have some incredible new locations on the pre-festival tour and we can't wait! Bring it on!"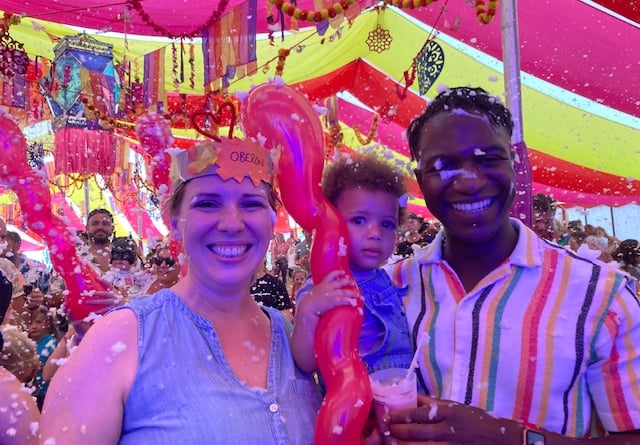 Drawing on first-hand experiences as ravers and parents, the Big Fish Little Fish crew create anarchic, social, daft fun for all ages
(@BFLFEvents)
Recent Festival Kidz award winners in the 'Favourite family festival' and 'Favourite family music' categories respectively, Camp Bestival and Big Fish Little Fish have curated the tour to give families a taste of what to expect at the festivals.
Ticket prices range from free for babies to £14 for adults, and everyone attending the tour events will be in with a chance of winning a family weekend ticket to either Camp Bestival Dorset or Shropshire.
Camp Bestival will take place this summer at Lulworth Castle in Dorset from July 27 to 30, and Camp Bestival Shropshire will happen (for the second time) at Weston Park between August 17 and 20.
Founder of BFLF, Hannah Saunders, invites everyone to join the joint birthday celebrations and said: "See you on the dancefloor!"
So, what are you waiting for? Get your tickets now and join the fun on the dancefloor with Big Fish Little Fish family rave.