Farnham teenager Ella Sofiya is no ordinary 17-year-old. A love of languages led her first to learning Ukrainian at 12, and then Russian.
When the war in Ukraine started, her family took in mother Ksenia and daughter Veronica, aged nine, who had fled the country. Ella helped them navigate the paperwork required for everything from school to work.
Now, the enterprising teenager is organising a Concert for Ukraine at Frensham Heights School this Saturday to raise money for the Disasters Emergency Committee.
The concert, titled Change is Gonna Come, will feature a variety of performers from the Ukrainian community, as well as Ella herself, a talented singer and songwriter.
It is free to attend, and donations will be accepted on the night.
Ella, who is now studying English, Spanish and Russian at Farnborough Sixth Form College after leaving Frensham Heights last year, started singing at the age of 11 and showed a real love of soul and jazz music early on.
She particularly loved performing classics by Nina Simone, Etta James and Sam Cooke, and found that these artists had a strong message which resonated with her and yet still felt relevant in today's world.
Ella regularly performed at school and in local pubs and music venues, while completing her singing exams to grade 8 and writing her own songs.
And the concert will combine her two loves, music and language, as she hopes to perform traditional Ukrainian music as well as British music popular in Ukraine.
Ella has always had a natural curiosity and love of languages, and started learning Ukrainian at aged 12 on the mobile app Duolingo.
She then decided to teach herself how to read, write and speak Russian.
When news broke about the war in Ukraine, it felt like the only thing to do was to welcome a Ukrainian family into their home.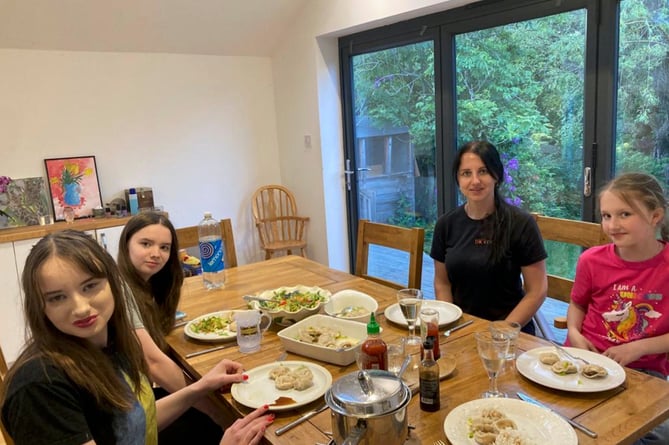 Ella (left) with her sister Poppy and the Ukrainian family, mother Ksenia and daughter Veronika, who came to live with them
(Ella Sofiya)
Ella was able to help with translating as the family spoke very little English. This ranged from everyday conversation to visas and documents for schools and doctors.
As the war continues in Ukraine and war fatigue has begun to creep into England, Ella felt that she wanted to set up a charity concert to raise money for the Disasters Emergency Committee.
She believed that a concert would raise money, boost morale and continue to raise awareness of all those who were suffering, as well as "bringing the Ukrainian community and host families together".
She added: "It started out with me saying I could sing a song, and then Veronika said she could do a traditional Ukrainian dance. From there, I got in contact with more people and now we've got quite a good list of bands, singers and musicians from the Ukrainian community to come together and do something."
Although Ksenia and Veronika have since left Ella's family to rent their own home, the families remain close – and even spent Christmas together.
"I loved every second of being a host family," Ella said. "It's been really lovely to find out first-hand about Ukrainian culture. We always used to do cooking together, and I really loved it.
"It was a really amazing opportunity, and it also helped me so much to improve my Russian and Ukrainian."