The destruction of farmland and countryside caused by a Heathrow Airport fuel pipeline would 'make HS2 look like a picnic in the park', an angry farmer has claimed.
Ex-Royal Borough mayor Colin Rayner has vented his frustration after fuel company Esso "wrecked" his farmland.
Esso's replacement pipeline follows the route of the existing pipeline from the Fawley Oil Refinery near Southampton to the West London Terminal storage facility at Heathrow, cutting through large swathes of the Hampshire and Surrey countryside.
Works having already taken place to replace the pipeline locally through the Bramdean, Ropley, East Tisted, Chawton and Alton areas before moving on to Upper Froyle, Crondall, Church Crookham, Fleet, Farnborough and beyond.
And Esso contractors came to Mr Rayner's farm, in Laleham, Surrey, close to the M25/M3 junction in October to dig up and replace part of the existing 90km fuel pipeline.
The pipeline, which has been in place since 1972, stretches from Southampton to Heathrow Airport but because inspection and maintenance are increasing, Esso decided to replace it.
However, this major work requires contractors to go to several landlords and farmers' land. Esso reportedly must agree to several conditions to avoid damage to their land, the countryside, and to wildlife, and to restore the land once finished.
Mr Rayner accused Esso of "empty promises" after "wrecking" and leaving "horrendous damage" at his farm when their contractors turned up in October.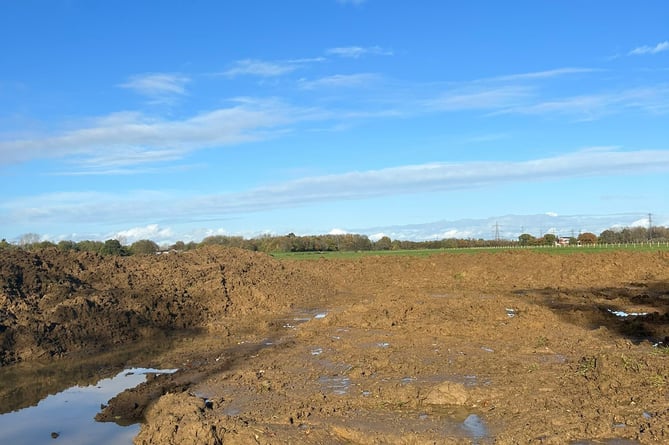 Colin Rayner said Esso has "wrecked" his farm
(Colin Rayner)
Speaking to the Local Democracy Reporting Service, Mr Rayner said: "It's all rather upsetting. They just wrecked our farm and they come along and make lots of promises.
"We had a meeting with them [Esso], and they made lots of promises, and nothing ever happened since and the damage they are doing to the countryside would make HS2 look like a picnic in the park."
Mr Rayner also claimed other farmers have experienced the same and when he raised his issues to Esso, he was reportedly met with silence.
He added: "As farmers, we tried to accommodate Esso and Heathrow Airport but what is the point of us working with them if they just come a long and make lots of empty promises and then just damage and wreck the countryside."
Some of the damage Mr Rayner outlined was Esso blocking his drainage system with water from the "mud bath" the contractors caused.
Security is also something Mr Rayner is concerned about, saying not enough has been done to deter trespasser or flytipping.
Project executive of the Southampton to London pipeline project Tim Sunderland said: "The project is replacing an existing aviation fuel pipeline that has been in place since 1972. It currently carries the equivalent of 100 road tankers of fuel every day. Without the replacement pipeline, the fuel would need to be transported by truck on local roads.
"Periods of extreme wet weather experienced at the end of 2022 have made construction challenging.
"We have met with the tenant and their land agent and acknowledge that our contractor could have done a better job in this area. We regret the concern this has caused.
"Following our meeting we have implemented the agreed actions as recorded by the tenant's agent. We will be reinstating the land on a like-for-like basis, in compliance with the legal agreement we have with the landowner."
Heathrow Airport declined to comment.
Have you encountered similar issues on your land as a result of Esso's Heathrow Airport pipeline works? Get in touch by emailing us at [email protected]