Those wishing to visit the Farnham Artists & Makers Market on Sunday, May 21 will be able to enter the town along West Street from the Coxbridge roundabout as the road closure is to be lifted for one day only.
South East Water, which is installing a new water main in the road as part of a major £1.3 million upgrade, will remove the closure for the day and instead put in temporary traffic lights to guide motorists safety around the construction zone.
The road closure will, however, be back in place on Monday, May 22, to allow South East Water to complete its water main upgrade. The company says it is on track to complete the West Street phase of its project by the end of the month.
Jackie Edwards, of ACVR Events which runs the UK Artists & Makers market, said: "We have been assured by the council and the water company that this market can go ahead. This is welcome news not only for the market but for the local shopkeepers who have been suffering with a lack of footfall.
"So why not come down for some interesting shopping and stay a while for some brunch lunch or afternoon tea and browse the shops that will be open. The market will be on between 10am and 4pm."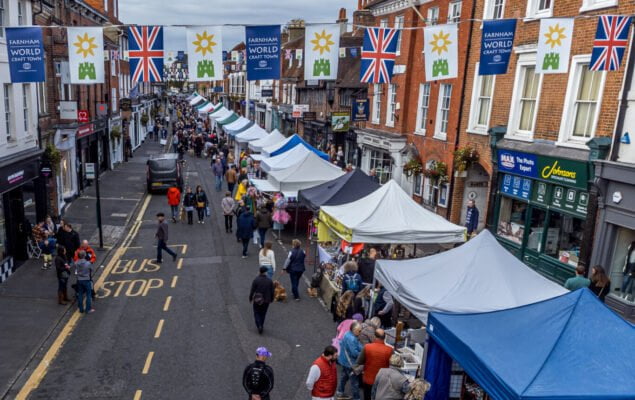 Farnham's West Street market will take place between the junctions with Downing Street and The Hart on Sunday, May 21
(Farnham Town Council)
Jeremy Dufour, South East Water's project manager, said: "We know how important the Arts and Crafts Market is for the town and attracts people from across the area. 
"We want to ensure the community can visit the town with ease to view the work crafters from across Farnham and Surrey have created.
 "Although we're able to lift the West Street closure for the market on May 21, it will be back in place on May 22 so our teams can safely install the remaining sections of pipe in the road." 
Once complete, the new pipeline will enable South East Water to pump more water into the town, ensuring customers don't suffer with low water pressure or interruptions to supply as the community grows. 
The water company expects to lift the road closure in West Street for the final time at the end of May when the crews will continue laying the new two kilometre pipeline in private land.
It comes just a week after Farnham Town Council leader David Beaman called on South East Water to reopen a lane of West Street with immediate effect to ease the town's traffic misery.