First English language class for Ukrainians living in Alton
Friday 13th May 2022 6:00 am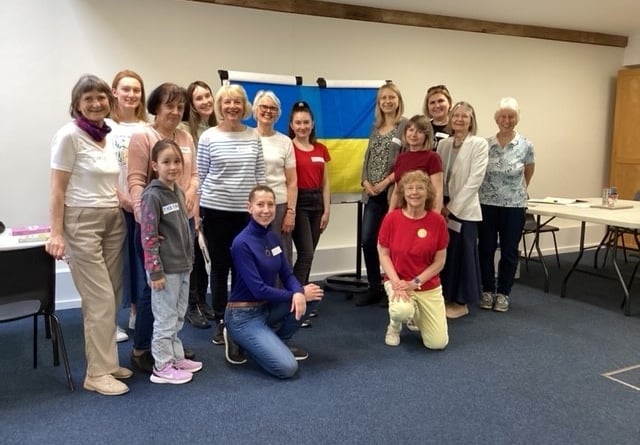 The Ukrainian flag was on show to welcome students to their first English language class
()
Subscribe newsletter
Subscribe to our email and get updates right in your inbox.
Seventeen Ukrainians were welcomed by a strong support team of volunteer teachers and helpers who had all come together at short notice to do what they could to help those in need.
The co-ordinator of the English Support Group, Jackie Slack, said: "We all wanted to help in whatever way we could.
"I was a language teacher for many years and also had experience of teaching English as a foreign 
language."
The group came together after Jackie went on social media to volunteer her services. She said: "I posted on Ukraine-Alton Mutual Aid's Facebook page offering English lessons and received several offers of help, especially from Maru Gil, who already teaches a class in Basingstoke.
"The next step was to establish a teaching team, so I quickly contacted friends and former colleagues, all with similar qualifications and experience, and there are now six of us able to offer the lessons.
"To our immense delight, other willing volunteers have stepped forward, who help us with the teaching and look after accompanying children."
Every class needs somewhere to learn and Alton Maltings offered its assistance.
Jackie said: "Finding the right venue was important and we are very grateful to the Maltings centre, who have given us free accommodation in their lovely, welcoming premises.
"More Ukrainians are arriving in this area almost daily and our numbers have swollen even since we started."
Despite the constant influx Jackie and her team are coping with demand.
She said: "Luckily there are enough of us to be able to offer small classes at the right level for each individual. We think this helps them feel they are in safe hands as well as being taught well.
"This is important when we consider some of our guests have been in this country for a very short time – some as little as one week – having had harrowing experiences leading up to their arrival."
The lessons take place at no cost to the students every Monday from 12.30pm to 2pm and finish in time for those with children at school to pick them up. Drinks are provided but guests are asked to bring some lunch with them.
Hosts are welcome at 2pm if they wish to discuss any aspect of the lessons with the teachers. Hosts are also invited to participate in the homework by practising with their guests what they have learnt in the lessons.
For English Support Group details email Jackie Slack at [email protected] or visit Ukraine-Alton Mutual Aid's Facebook page.
Comments
To leave a comment you need to create an account. |
All comments 0