A SHOWPIECE event has been hailed as a triumph against adversity as its green-fingered entrants have defied the odds.
There was a welcome surprise for organisers when the Froxfield and Privett Garden Club held its summer show.
Gardeners defied the wet summer to submit a wide range of fruit, flowers and vegetables on par with previous shows.
Chairman Elizabeth Houghton-Connell gave a resume of the club's recent activities after welcoming visitors to the annual event at Froxfield village hall. She complimented exhibitors on their excellent crop of entries given the difficult growing conditions of the past year.
There were two names on the silverware this year with Nina Povey claiming the Fruit Bowl for her figs and the Dee Kiddle Cup for cookery thanks to her apple ginger and honey cake.
Carolyn North won the Friendship Group's trophy for best container or hanging basket as her colourful entry was overflowing with flowers.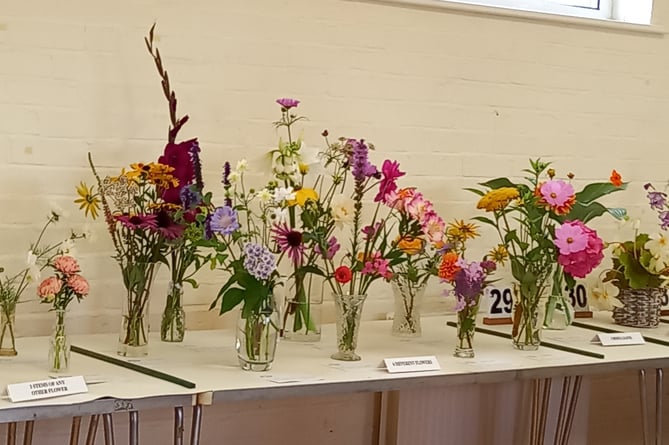 The collection of six different flowers section was well contested.
(Christine Stephens)
Show Secretary Christine Stephens took home the trophy for best arrangement in show thanks after impressing judges with her miniature arrangement in a mustard pot.
Froxfield Primary School also made a good show of things with their pictures of insects in a variety of media while Froxfield pre-school children rustled up some woodwork models.
Privett Montessori went out of this word as they submitted pictures with a space and solar system theme.
The chairman closed the event by thanking exhibitors and the committee for their entries and hard work in organising the event, respectively.