An 'accelerated' time-scale has been unveiled by project bosses as they promise the long-awaited health hub in Bordon's new town centre is on track.
The Integrated Care Board (ICB) for Hampshire and the Isle of Wight has updated the county council's Health and Adult Social Care Select Committee (HASC) on the plans.
It said progress 'continues to be made' on the 'one-stop shop' for health as part of the redevelopment of Whitehill and Bordon town centre.
When the project was first mooted, £2.8 million had been set aside to make it happen. The latest estimate is it will cost around £4.8 million.
The ICB, the Whitehill & Bordon Regeneration Company (WBRC), East Hampshire District Council, NHS providers and other partners are working together to create the purpose-built facility.
It will combine primary care – provided by Badgerswood and Forest GP Surgery – and community health services on to a single site, together with services currently provided at Chase Community Hospital.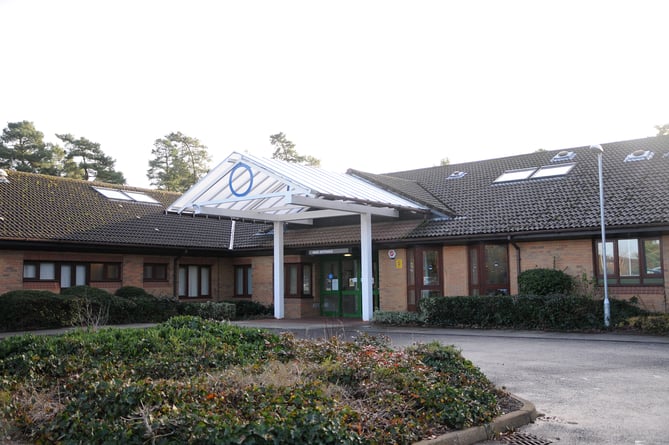 Chase community hospital will be closed when the new facility opens
(Tindle)
A report to HASC said the partners in the scheme were committed to the latest delivery dates for the project which 'reflect a focus by partners to accelerate timescales as much as possible'.
Key dates include the detailed design being complete by this April, a planning application and full engagement with the local community this summer, construction starting early in 2024 for completion in the summer 2025, enabling site occupation in the third quarter of that year.
Badgerswood and Forest surgery has a Memorandum of Understanding for its Heads of Terms (HOT) for its occupation of the new facility. This will set out the terms of a commercial transaction agreed in principle between the parties involved, and relocation of the Forest surgery and Chase Pharmacy.
Detailed discussions are taking place with Everyone Active, the local leisure centre operator, to explore providing physiotherapy and gym space for users of the health hub and the wider community – an element not previously planned for the project. The new health hub does not have space for its own physiotherapy gym.
A steering board has been set up with partners in the development to ensure partners meet regularly and maintain traction on development milestones.
Southern Health NHS Foundation Trust (SHFT) has reiterated its commitment to the scheme and has submitted its internal business case which is now subject to internal scrutiny.
Badgerswood and Forest practice is working with WBRC on securing an early presence for its pharmacy in the new town centre ahead of the health hub opening.
Sara Tiller, the ICB's managing director for south east and north and mid-Hampshire, said: "We are in advanced discussions with all partners involved to be able to move forward and engage with the public on delivering the long-awaited health hub .
"This is an ambitious and complex project, bringing together different partners under one roof. 
"Engagement with the local population will be a central part of this process and we will ensure patients and residents have the opportunity to formally feed back on our plans to help shape the future of health services in the area."
The purpose-built health hub will combine primary (GP) and community health services on a single site, together with services currently provided at Chase Community Hospital.
The hub is seen as a vital part of the redevelopment of the area.  
It will include a GP practice with other health professionals including pharmacists, nurses, dieticians, physiotherapists, occupational therapists, paramedics, podiatrists, physician and nursing associates, care co-ordinators, health and wellbeing coaches and social prescribing link workers.
There will also be a range of community services including immunisations and vaccinations, physiotherapy and musculoskeletal services, occupational therapy, a leg ulcer clinic and an oxygen assessment clinic.
Also planned to be included are adult and older person's mental health services, I-Talk talking therapies, child and adolescent mental health services, midwife and health visitor and children's services, screening clinics, sexual health services and a substance abuse service. 
The hub will also be the base for the district nursing team.