MP Jeremy Hunt: We've got £25 million in the bag – but the hard work starts now...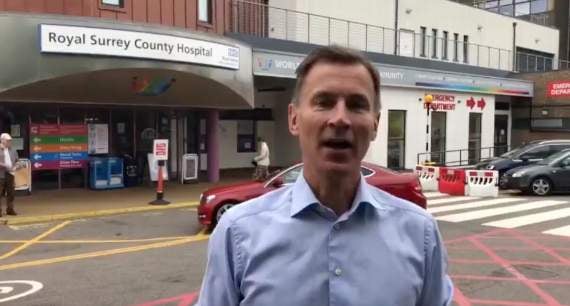 MP Jeremy Hunt
Subscribe newsletter
Subscribe to our email and get updates right in your inbox.
On Thursday we had the long-planned launch of the campaign for a new Cancer and Surgical Innovation Centre at the Royal Surrey attended my many distinguished consultants and Royal Surrey chief executive Louise Stead.
The main news of the event was that the NHS has now approved £25 million of funding to get the centre started. The whole project costs around £30 million, of which the aim is fundraise
£5 million across Surrey.
But to spend £25 million from its capital budget, the Royal Surrey had to first get approval from NHS England. I met Simon Stevens, outgoing chief executive, in June to press the case which was not easy because there are many different priorities for NHS capital spend.
But Simon listened carefully, and approved it as pretty much his last action as NHS chief executive. This was announced formally at Thursday's meeting.
At the event we also heard useful presentations on the prevalence of cancer in Surrey and the need for early diagnosis. The NHS currently diagnoses just over half all cancers at the early stages and is aiming to raise that to three quarters by 2028.
In Guildford and Waverley, interestingly, we have a slightly lower incidence of new cancer cases than the national average (because people are slightly healthier around here) but slightly higher overall numbers living with cancer (because we have more older people living longer).
Overall the two cancel each other out – so we share the UK-wide need to get more diagnoses happening earlier.
Currently only 53.5 per cent of cancers are diagnosed at stages one and two in Guildford and Waverley – which means nearly half are diagnosed at a stage when it will be more difficult to stop them being life-threatening.
That means there is a big job for the NHS locally – but also for all of us individually to make sure we are up-to-date with our cancer screening. If in doubt, contact your GP. That is where a new Cancer and Surgical Innovation Centre can make a huge difference!
At the public meeting surgeon Simon Butler-Manuel showed us an extraordinary video of him operating a robot to deliver high precision surgery to remove a cancer.
We have world-class surgery right on our doorstep. But the surgeons desperately need more space in order to increase the number and quality of operations done.
Colin Stokes and many others did a wonderful job raising funds for the Stokes Urology Centre which was opened in 2018 – and this new centre is the next step to help turn the Royal Surrey into the leading cancer centre in the South East.
The new funding will allow more precise surgery done more quickly and in a way that allows people to go home more quickly with a faster recovery. However, each Da Vinci robot costs £2.4 million so this is not going to be cheap. The hard work starts now.
Professor Chris Marks, who worked at the Royal Surrey most of his working life and now lives in Chiddingfold, has agreed to co-chair the fundraising committee with me.
Chris and I worked together on the campaign to save the Royal Surrey when it was threatened with closure, and he personally has raised millions for the hospital through a charity he set up called GUTS so there is no one better.
Our initial objective is to raise £1 million towards the £5 million. The campaign will last several years and although we are starting it in South West Surrey we will also be launching it in other parts of Surrey.
Guildford's MP Angela Richardson has been closely involved and is being strongly supportive. So please help in any way you can.
If you are able to support the campaign financially, you can donate through the Royal Surrey's own charity (link on my website www.jeremyhunt.org) – and please tell your friends to as well!
Comments
To leave a comment you need to create an account. |
All comments 0