Farnham's first-ever soapbox race took place in Castle Street in August of that year, and was a huge success – drawing an estimated 12,000 people into the town centre and raising more than £40,000 for Phyllis Tuckwell Hospice..
Nearly 50 home-made carts hurtled down the 500-metre course, cheered on by crowds more than ten people deep in places.
Each soapbox was built by a local group or business, and all were unpowered, relying purely on gravity and a sharp shove off the start line to move.
The event was inspired by eight-year-old Tyla Dougherty, who dreamt of taking part in such a race. This prompted Tyla's dad, Tony, and fellow members of the Farnham Rants Facebook page, to spend 13 months putting it together, culminating in a wonderful day for the town and its residents.
Tony and the rest of the soapbox committee, Lee Moran, Miles Auckland, Bryan Blencowe and Katie Osborn went to the hospice in Farnham the day after the race and presented a cheque of £43,252 to staff.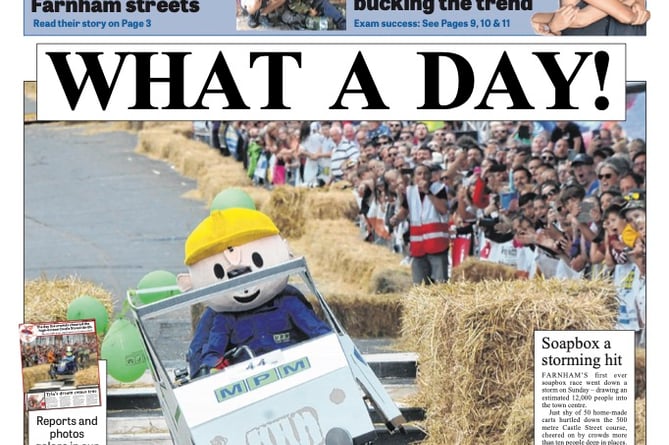 The Herald front page in the week after Farnham's first ever soapbox race in August 2019
(Farnham Herald)
Charli Quay-Barnham, community fundraising manager, said: "The Farnham Soapbox organising committee, made up of extraordinary individuals from our community, worked so hard to make this event a success for everyone to enjoy in Farnham.
"We are incredibly grateful for their support and were delighted to receive such a generous donation."
She said the donation could pay for "11 months care from one of our Hospice Care at Home nurses", and added: "Support from our community, like the Soapbox team and their fantastic fundraising means that our care can continue free of charge to patients and their families, which is really, really important."
The race, which involved soapboxes dodging obstacles and launching over jumps (with hilariously mixed success!) had two winners; Carlin Motorsport from the morning session and Hoopers and Tutors flying white coats from the afternoon session.
Tyla got to realise his dream, rattling down Castle Street in his very own Mad Max-themed soapbox cart with co-driver, Tony.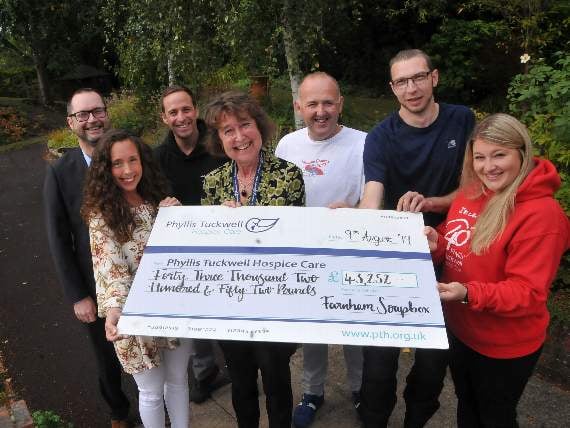 The Farnham soapbox derby organisers hand over the cheque to Phyllis Tuckwell Hospice
Organiser Lee Moran thanked Redleaf Event Management for overseeing the event, as well as the soapbox volunteers, teams, comperes, sponsors, committee, the public and his partner and daughter.
"It's been great for personal development and a pleasure to help make this happen to put this fun event on for the rest of the community, while helping my favourite local charity, PTH.
"Each member of the committee brought something unique to the table. Considering we are five very normal local members of the community with no previous experience in this area, I feel we worked together very well. I'm proud to have worked with Tony, Bryan, Miles and Katie."
In a statement on the Farnham Soapbox Facebook page, organisers said: "We would like to thank everyone who helped us to raise this amazing total that we are all so proud of. Without all of the help, support and the donations it would not have been possible."
Facebook users praised the event on our newspapers' websites and readers wrote in to say how much they enjoyed it. Businesses reported a huge increase in takings on the day of the race.