More than a million people visit leisure centres
Thursday 24th March 2022 7:00 am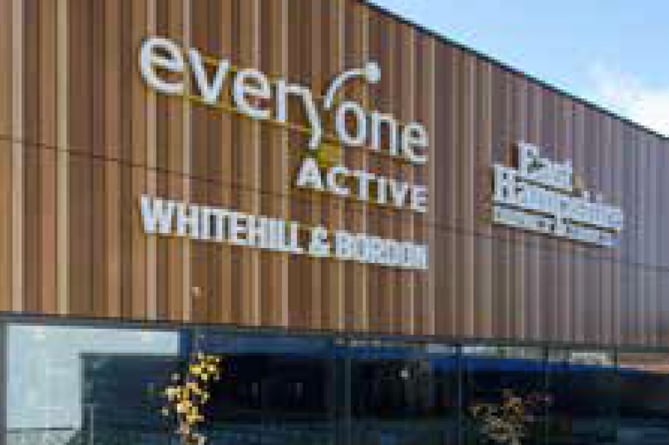 Whitehill & Bordon Leisure Centre
(East Hampshire District Council/Everyone Active )
Subscribe newsletter
Subscribe to our email and get updates right in your inbox.
LEISURE centres across Petersfield, Alton and Bordon recorded their best-ever year in 2021 with more than one million people taking part in fitness and swimming sessions.
The record-breaking year for the East Hampshire District Council centres, run by operators Everyone Active, comes on the back of lengthy closures since 2020 courtesy of the pandemic.
And during the lockdowns that began in March 2020, the 20-year deal between the council and operator had to be rewritten.
This was amid fears that Everyone Active, which runs hundreds of leisure centres for local authorities, might go under.
There were also concerns the pandemic closures could adversely affect the council's recent £30 million investment in the new leisure centres.
It had built two new ones, at Alton and Bordon – both opened just in time to be closed again by lockdowns – and had completed a £2.8m revamp of the Taro Centre in Petersfield.
Council leisure services manager Sean Herdman-Grant said: "After the amount of investment we were concerned about what leisure services would like after the pandemic.
"Normally four-month closures, like there were during the lockdown, would cripple leisure centres.
"And elsewhere some still haven't reopened, and others have closed completely.
"But during the closures there was some government funding that meant we could be flexible and work with Everyone Active without investing any 'new' money.
"Some leisure centre staff were also moved around, which helped.
"And the centres have had a really successful year since the pandemic restrictions started easing, with more than one million visitors taking part in some form of fitness sessions at them.
"What is really fantastic is that 3,500 swimming lessons a week for children and young people are being taken up – that's 140,000 swimming lessons in the past year. Amazing.
"It's a very positive outcome from where we were a year to 18 months ago, especially when figures show that user levels nationally are only back at about 75 per cent of what they were pre-pandemic.
"So for us to have our best year ever with one million users is a really remarkable bounceback, absolutely incredible."
And a part of the success in encouraging people back to the centres was a marketing campaign.
It highlighted the measures put in place to help ensure people wouldn't catch, or couldn't pass on, coronarvirus.
Sean added: "We didn't want people visiting the centres to feel they were doing something potentially dangerous.
"We wanted them to feel it was a normal thing to do, and it worked.
"But it was an uncertain time.
"We had to put a lot of controls in place to reopen the centres as soon as we did, and we were concerned users might push back, against them, and even stop visiting them.
"However, quite the opposite happened, and over the past year the feedback has been overwhelmingly and resoundingly positive. There have been an awful lot of thanks from users."
And now as life returns to almost normal, the council and Everyone Active are looking at further improving what the centres offer.
Sean said: "We are very lucky to be able to talk about the future.
"We can now look at what opportunities there are to offer more to the users of the leisure centres."
Comments
To leave a comment you need to create an account. |
All comments 0