One man no longer wants a pizza the action at Shed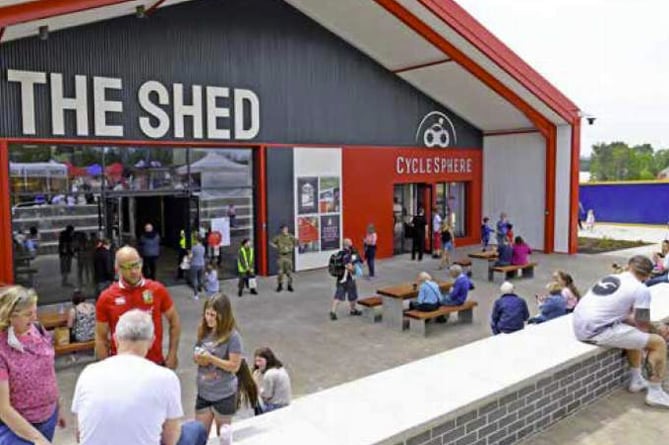 The Shed has been popular with many visitors since its opening day
Subscribe newsletter
Subscribe to our email and get updates right in your inbox.
What's the difference between a cheese and tomato pizza and a margherita pizza? Answer: nothing.
This conundrum was the final straw for Greg Olejarka, who closed the Chef's Counter branch at The Shed in Bordon shortly after Christmas.
He said: "We did everything to keep The Shed outlet going – but there was no point when you had local customers arguing with my staff that they wanted a cheese and tomato pizza instead of a margherita pizza, which is exactly a cheese and tomato pizza."
Continuing the theme that clients were "not understanding products", he added: "To start with, we put nduja pizza on the menu but we couldn't sell many, then after two weeks we changed that name to pepperoni pizza and we sold a lot."
Mr Olejarka also shut down the Chef's Counter Facebook page when a final thank you message to customers was followed by a complaint from a resident about its prices which went against its philosophy of using quality fresh ingredients plus proper crockery and cutlery.
He said: "I have nothing against the people of Bordon but using sarcastic comments that we have been over-priced brings boiling point in me, as you can go 200 yards further and purchase the cheapest pizza from Domino's for £14 – but they don't complain there as chains don't care about feedback like this.
"Basically clients who have been coming to The Shed have been motivated only by price to buy from outlets – so if you open McDonald's and sell 99p options you will make a killing, but chains like that will never be attracted to a small town like this as it is not cost-effective in any way to them."
Mr Olejarka said Chef's Counter tried "everything" to generate more business, including free delivery within a ten-mile radius, tapas and steak nights, a menu that changed with the food seasons, cross-promotion with Shed neighbours Hermanos Mexican Street Food and The Mixing Jug, and a range of discounts and offers.
As well as Chef's Counter, Mr Olejarka has also shut the Shed branches of Loco Chicken, Brothers Bakehouse and Crane Patisserie. All four brands are part of Crane Patisserie Ltd, which he co-owns with Lucanus Wijeyesekera. The company has more than 100 staff at its other branches in West Sussex, Berkshire and Essex.
The Shed opened at the end of May last year and Mr Olejarka felt its management needed to be improved. He said: "The people who run this place from the Whitehill & Bordon Regeneration Company took this project on board and tried to copy the Boxpark concept from London – but to do that you have to have food and beverage and events knowledge, and none of them came with that background.
"There has been a lack of response to all Shed businesses from the landlord about heating, more sitting space for clients, more cleaners on the main floor and additional security to support us with people under the influence of alcohol.
"I took the decision at the beginning of December to remove all my outlets from The Shed, and not to add further outlets in Block C in 2023, as the numbers for what you spend and what you get will never match until people become more aware of what they eat and how it affects their personal health, and that of their kids as well."
Other businesses have had a better experience of The Shed in its first seven months. Dylan's Ice Cream founder Ben Govier said: "Location-wise it's perfect for us. We've wanted a place in Bordon for five years now and the set-up at The Shed works brilliantly for us, especially in the summer when they have the shutters wide open on to the town park. In the summer we had endless queues in the prime location.
"We have great relationships with Hermanos and Siam Oishi in there as well, and the three of us help each other to get business and attract different customers but overall help each other.
"Facility-wise, the storage space is very tight and small but for the right business it can work. We make all our ice cream off-site and have made it work, but in the summer that does mean deliveries at least once a day, which is pretty inefficient. However, we've adapted how we run things to make it work.
"We've built a great customer base here in Bordon. We knew we had customers around this area from our shop in Haslemere, which has been open eight years, but having other units around us helps bring more customers and we've now got our regulars."
Mr Govier felt allowing operators to rent more than one shop in The Shed left it vulnerable to the kind of decisions taken by Mr Olejarka.
He said: "The Chef's Counter closing, along with the three other sites, is a shame as it does make it harder for us to remain busy with less footfall, especially with January typically being a quiet month.
"That's the downfall of the regeneration company giving multiple units to one individual, as we would hope The Shed would give multiple local businesses opportunities to open."
That policy is being repeated, with 350 Burger operator 4U2U Group also recently opening baked potato outlet Stuff'd, with fried chicken shop Shack and a breakfast and baked goods store to come.
But Whitehill Town Council leader Cllr Andy Tree, who has a financial stake in the 4U2U Group, felt its operators' years of experience in launching and managing outlets for McDonald's, Costa, motorway service stations and airport food and drink operations would stand them in good stead.
He said: "I invested in 350 Burger – now expanded to the 4U2U Group – because I wanted to personally support local businessman Dayne Cartwright and partner Tracey Terry, taking the risk within my own town.
"Having watched him lead the businesses, I have no doubt he has the skill set to succeed and that financially supporting him was the right decision."
Wearing his council hat, he added: "I totally support the success of The Shed as it all links to the ongoing regeneration plans for a new town centre, which we all fully deserve as residents of Whitehill, Bordon and Lindford."
Justin and Piyawan Mugridge, of Thai and Japanese restaurant Siam Oishi, were full of praise for The Shed. Thanking the Herald for asking how things were going, they said: "Everything regarding our end of the business is absolutely fine, couldn't be better. Great customer base, great location and everything is working out just fine."
The Whitehill & Bordon Regeneration Company believed the fluid nature of The Shed's early months was crucial to its long-term success.
It said: "The vision for The Shed was as a place at the heart of the community that promotes local businesses.
"Whitehill & Bordon aims to be a different type of town centre, which reflects the new reality of today's high street and champions the 'shop local' movement.
"In delivering this we have sought to offer an environment and financial terms that allow businesses to test the water and develop their offer.
"We now have a very strong core of successful businesses thriving at The Shed, but if a business fails to fulfil its expectations and leaves, then we have a stream of interest from operators ready to take their place.
"That is not surprising given the fantastic support we have received from local people, resulting in footfall running at double our expectations and averaging some 1,500 people on our busiest days."
Reviewing the comings and goings at the end of 2021 and the start of 2022, the regeneration company added: "So in the run-up to Christmas, as well as welcoming our new baked potato and toasted meals offer Stuff'd, we had some offers close down.
"However, we already have new operators being put in place and fitting out to open in the coming weeks.
"The Chef's Counter will re-open under new management and a refreshed offer based on a pizza menu. A new confectionery with a traditional sweets, drinks and tuck-shop feel, Sweet Treats, will replace the patisserie offer by the end of January. The Loco Chicken unit will also re-open under a new name – Shack – offering a comprehensive fried chicken meal and snack menu.
"These additions strengthen the offer further and build on what we know works as we follow our community and commercial principles for The Shed – a destination where the produce is local and the shopping is social.
"We are keen that this first element of our wider plan sets the vital tone for the rest of the town-centre development."