As this year marks the 30th anniversary of Petersfield's Rams Walk shopping centre opening, it seems a good moment to share these two photographs taken in 1993 showing its construction.
Apparently the entrance to the arcade in the High Street was once the site of a 17th-century timber-framed house, the gable of which faced the street.
Despite its modern construction, the walk now fits well into the street scene, using traditional materials on its High Street frontage. Further in, the buildings are more modern in style yet still show an interesting variety.
Nearest the other entrance to Rams Walk, in the town's main shoppers' car park, beneath the clock in these two photographs, stands the Waitrose store with probably the most 'modern' design of the whole development.
Within the walk is the  shepherd, dogs and sheep statue.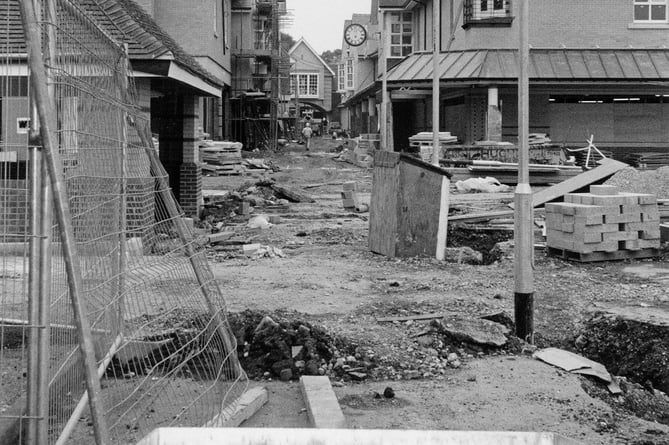 Petersfield's Rams Walk mid-construction in 1993
(Herald archive)
This commemorates the town's important link with sheep farming on the South Downs. However, many associate it, too, with the name of the shopping centre. It would appear, though, that the use of the word 'ram' hereabouts may have other connections.
The river that runs between the shopping precinct and the car park is, today, known as the Drum but was called the 'Ramsbridge Watercourse' back in the 1730s when today's Chapel Street was known as Ramsbridge Street.
This 'Ram' is thought to be connected to Ramshill, 'the hill of the ram', but the Petersfield Historical Society's Petersfield Papers  tell us 'Ram' could well be derived from the Old English word 'hramsa' for wild garlic or ramsons. 
An alternative to that is 'hramu' meaning a post, frame or barrier possibly marking where the borough boundary crossed the hill.
So perhaps the only sheep connection with Rams Walk is the lovely statue that now graces its centre.