Farnham's Phyllis Tuckwell Hospice has submitted plans to Waverley Borough Council for a near-complete rebuild of its historic building in Waverley Lane.
Subject to planning permission, the hospice hopes to begin building works in mid 2023 – with patients to be cared for in a temporary inpatient ward.
The project is expected to cost £16 million.
Plans for a new and improved, bigger and more energy-efficient hospice have been five years in the making.
With demand on Phyllis Tuckwell's vital palliative care services increasing year on year as the area's population gets older, hospice bosses took the decision some years ago that its current building would soon be unfit for purpose.
A "large loop of scenarios" were considered including relocating out of Farnham. But this notion was quickly dismissed.
"We love the location and we're well loved in the town, so our intention is to stay in Farnham," said hospice director of marketing Tony Carpenter.
However, with infection control limiting the hospice's inpatient unit from 18 to 12 beds at the start of the pandemic, and with large parts of the original 1930s cottage hospital building beginning to show its age, the hospice says its only choice is to demolish the older building and start anew.
Tony continued: "The present building isn't going to stay standing for much longer without some major work – all the plumbing is leaking and we don't know where all the pipes go and the electrics and so on.
"So when we looked at the mathematics, it was easier and cheaper to start again."
The only part of the building to remain will be the 'Dove Wing' extension funded by the Farnham community some 15 years ago – seen to the left of the proposed new building in the above artist's impression.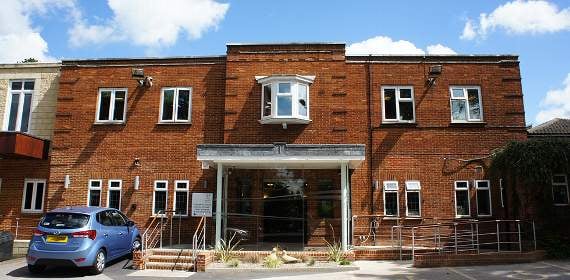 Phyllis Tuckwell Hospice as founded in Farnham in 1977 by Dr Phyllis Tuckwell, to provide care and support for people living with terminal illnesses and their families.
()
The new building will provide 18 private inpatient rooms each complete with en-suite showers, a guest bed for visiting family, their own heating controls and a private garden area leading to an inner, shared courtyard garden.
Explaining the courtyard design, Phyllis Tuckwell chief executive Sarah Church said: "We expect to see a higher proportion of patients with dementia or who might get confused occasionally in coming years, so having a safe place where they can feel independent in their own garden area, we think will add a real quality to their experience."
There will also be improved outpatient facilities for the 2,000-plus patients cared for in the community by the hospice every year, as well as new reception spaces, office space and provision for staff well-being including communal breakout spaces, showering and changing facilities.
The hospice has already presented its plans to Farnham Town Council, South Farnham and Moor Park residents associations and neighbours – and members of the public can now view and comment on its plans online at www.waverley.gov.uk/planning under reference WA/2022/03102.
Project manager Paul Harris said the initial comments from Waverley's planning officers "were positive", with the borough council hoping to determine the planning application by March 8.
If planning permission is granted, Paul added the hospice would hope to contract a construction company and move hospice services off site by the middle of next summer.
The demolition and construction phase would then last around two years, with the new building opening in time for Christmas 2025.
Inpatient and outpatient services will be maintained throughout. Day and community services will be run out of the hospice's Beacon Centre in Guildford as well as through a temporary "clinical hub" in Farnham town centre.
But while finding a temporary home for the hospice's in- patient unit is more of a "headache", says Paul, the hospice is now in advanced negotiations with a care home in Camberley to maintain this vital service.
He added the new building – which will be fully electric, with all gas removed from the site – will also be some 23 per cent more energy efficient than is required by government regulations, delivering "considerable savings".