PEOPLE who feed the ducks have been partly blamed for causing a stink at a Petersfield beauty spot.
Visitors have been holding their noses at Heath Pond as the dreaded blue-green algae (BGA) has returned.
It was limited to its southern shores but the recent hot spell has led to an outbreak with people and dogs being urged to avoid the water.
The worst affected section is the corner by the boardwalk where the stench from a trapped section of dying algae has "caused children to gag". 
While they don't want to be killjoys, the pond's guardians have admitted that duck feeding has played a part in the spread.
The practice wasn't a problem last year as food easily sank to the bottom of the pond because of much lower water levels.
But that hasn't been the case this year thanks to a heady mix of sunlight, hot weather and "leftovers" which have circulated in the largely static water.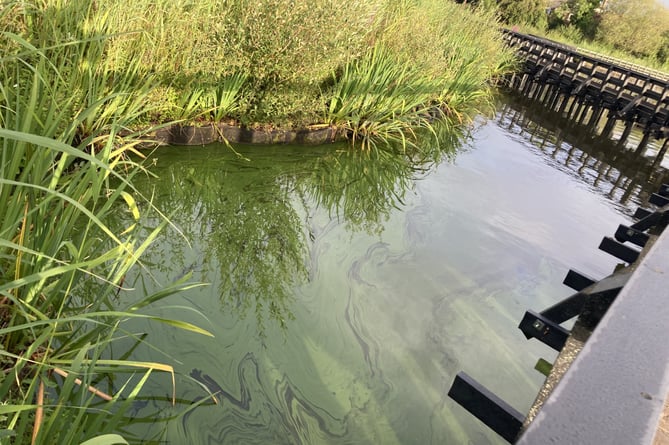 The algae started developing around the boardwalk in July
(Tindle/Paul Ferguson)
Councillor Chris Paige, one of eight voluntary bailiffs at the pond, claimed the pond can be a petri dish as there's no outlet or inlet, so the water is effectively stationary.
He acknowledged: "Let's not beat around the bush, it's not very pleasant and it smells.
"The white patch near the boardwalk is because the algae is dying. It's bloomed, now it's dying off and what's left is the smell."
The good news is water quality remains good for fish stocks and a decent spell of rain, which is forecasted, will help the BGA to disperse.
Bailiffs and the town council have been in constant contact with the Environment Agency and near-daily tests are being carried out. The discovery of a dead fish in the corner caused some concern, but was attributed to it getting trapped.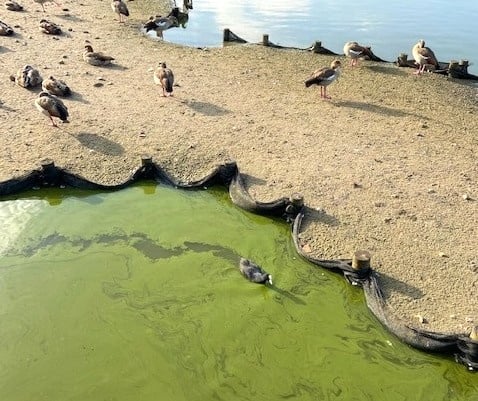 It's particularly bad close to the island near the boardwalk
(Shine Radio)
Chris added: "We want sustained rain and wind and we want it to be a little bit cooler, too, and when that happens the algae will go away just like it appeared.
"One thing we don't want is the same as previous years when it got really bad and the oxygen level got so low that fish died, so we're keeping our fingers crossed."