The young dragons are coming to Farnham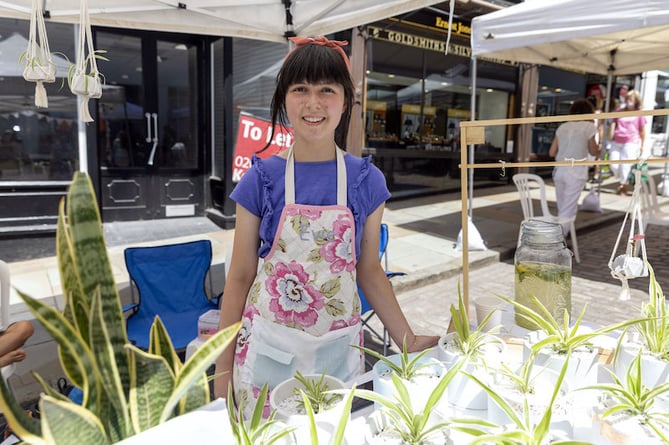 Evie, 13, launched her business Les Petites Plantes making home-made pots and home-grown, air-cleansing plants. Enthusiastic and a great communicator, Farnham will be her second Business Fair
Subscribe newsletter
Subscribe to our email and get updates right in your inbox.
TWENTY-FIVE young entrepreneurs, aged seven to 17, will exhibit their wares at Farnham's first-ever Children's Business Fair to be held at Farnham Maltings' monthly market in December.
The fair is the brainchild of local man Sam Rogerson and will see the launch of 20 new businesses in the Maltings' courtyard on Saturday, December 4 - selling everything from 3D printed toys to air-cleansing plants and recycled crayons melted into letters and shapes.
A former media executive, Mr Rogerson launched his first Children's Business Fair in Guildford in 2018 to give young people an opportunity to start their own businesses, and "sell in an authentic environment with real customers, making real money".
So far, more than 500 young entrepreneurs have kick-started their business careers at the fairs - and his last event in Guildford, before the pandemic hit, saw 65 children launch 40 new businesses.
Already, 25 young entrepreneurs and 20 businesses have signed up for the inaugural event in Farnham - with applications encouraged up to November 4. See https://childrensbusinessfair.co.uk
"We're really excited to be coming to Farnham," said Mr Rogerson.
"We run several events throughout the year, to give children the authentic entrepreneur experience.
"They can learn lessons at each fair, build their confidence, and many come back multiple times before they get their businesses quite right."
Mr Rogerson added young entrepreneurs are deliberately offered little support - instead being encouraged to make their own mistakes and learn from them.
He said: "Eight-year-old Molly set up her business 'Crayonames' making and selling scented candles. At her first fair, she made about £100 - but after three or four fairs, now she knows how to pitch, how to sell, and made £500 in just three hours at our last fair!
"It can be pretty daunting speaking to strangers, but it's fascinating seeing their eyes light up once they get going."
Mr Rogerson added he was inspired to launch the Children's Business Fair after recognising that schools "while extraordinarily good, can only teach certain things".
"All the skills children need to navigate the 21st century, they can learn by launching a business," he continued.
"Britain needs children who will change the world, and change comes from entrepreneurs."
Comments
To leave a comment you need to create an account. |
All comments 0