Village pub gets a 'zingy' make-over for Christmas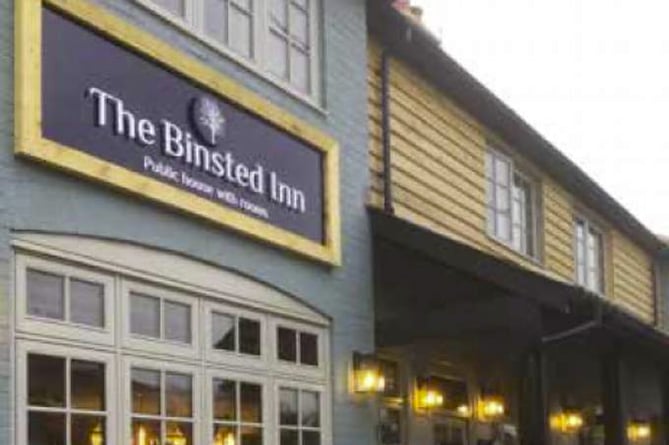 The Binsted Inn manager John McKitterick
Subscribe newsletter
Subscribe to our email and get updates right in your inbox.
Binsted has been without a pub for several years but now – much to the delight of villagers – it has one again.
Following a complete refurbishment, the Binsted Inn has opened on the site of the old Cedars pub.
At the helm is manager John McKitterick, who has more than 40 years' experience in hospitality, having run everything from boutique hotels to 200-bedroom spas.
His aim is to establish the free house as a successful dining pub, and integral part of village life once more – something villagers are keen to see.
Already, the cricket club has booked its annual dinner there, parents are popping in after games on the recreation ground and carol singers from the village church will be gathering at the inn as the culmination of their efforts tonight (Thursday).
"We have had a lot of support from local people," John said. "As a manager it's been amazing to take over a pub that everyone's so glad to see open again.
"It's been refurbished to a very high spec and everything we do is reflected in that. We have very good chefs and the feedback on the food is excellent."
The Binsted Inn has a snug, bar and restaurant with a large patio area ready for the spring and a children's play area on the way.
But it does not look like your traditional country pub. You won't find horse brasses and hunting scenes adorning the walls.
And John admits the very modern décor in a zingy palette of tangerine and teal with plush velvet seating, has had a 'Marmite reaction'.
The work of a London designer, it is more metropolitan chic than rustic revival – the sort of place you would be as comfortable wearing a smart dress or suit as a jumper and jeans.
"Some people have said we should have a darts board, pool table and TV, but we're basically a dining pub and people are also aware that we need to be a destination dining venue to survive," said John.
Open from 9am to 11pm Monday to Saturday and from 9am to 8pm on Sundays, he wants the Binsted Inn to be a place where anyone can drop in for breakfast or a cup of coffee and of course for dinner and lunch.
To that end the menus include a number of dishes easily adapted as vegan, vegetarian or gluten free.
"We get a lot of bookings for breakfast on Sunday mornings and again it's locals that come in, which is great," said John.
Crucial to the pub's success will also be its six en-suite bedrooms – including a dog-friendly one complete with two dog beds.
With the long distance Shipwright's Way route on the doorstep and Alton developing its reputation as a base for walkers, John is keen to tap into the market for cycling, walking and other outdoor pursuits.
It is a balance between keeping the locals happy and bringing people in from the wider area.
"We have tried to look at what people want in the area," John said. "I've got a quiz night between Christmas and the New Year, which apparently the locals are really looking forward to, and if that's as popular as I hope we will make it a regular occurrence."
Beer festivals, wine talks from local vineyard owners, gin tasting and a January sale as a "thank you" to locals for their support are among other events planned.
In a cut-throat environment that sees five to six pubs close every week in the UK, the Binsted Inn is one pub working to buck the trend.