As groups across the world call for businesses to be more environmentally conscious, one sustainable construction method is gaining momentum. 
The Passivhaus method, championed in the UK by the Passivhaus Trust, encourages architects and builders to adopt standards that are sustainable when designing and constructing buildings. 
Tindle Newspapers spoke to Passivhaus advocate and director of Awen Design, Mark Elton, about what the Passivhaus method entails, the growth in the method's popularity and what buyers should look for in an environmentally friendly home.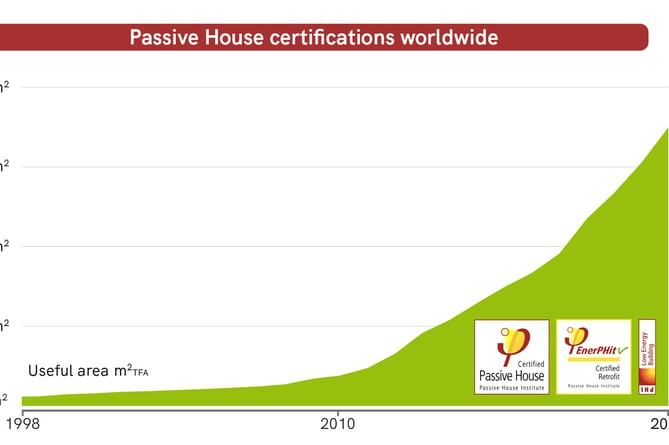 The increase in Passivhaus/Passive House certifications globally.
(International Passive House Institution)
Mark has had an interest in sustainable design for his whole career, starting when he was at university in the 1980s. 
He joined the Association for Environment Conscious Building (AECB), which tracked the development of Passivhaus in Germany and eventually established the Passivhaus Trust. 
In 2011, Mark attended the first Passivhaus designer course in England, which he said was "mind-blowing". 
"It felt quite different," he commented. "It was a lot more focused on airtightness of buildings, which was something that just wasn't being discussed in the UK at that time. 
"I'd describe learning about the method as a bit like seeing the "Matrix" and you go down the other side of never wanting to design the other way again.
What factors make a house Passivhaus standard?
Passivhaus design focuses on the absolute energy performance of a building through key design parameters:
the use of efficient building forms with high insulation levels,

the meticulous specification and location of windows and doors to take advantage of free solar gains

the detailed consideration of air leakage reduction and thermal bridge-free construction

the installation of only the quietest, most energy-saving heat recovery ventilation systems

the elimination of overheating risks through shading and natural venting

inspection during the construction phase to confirm that all the above measures have been installed to the highest standard.
All these conditions are checked for compliance in advance through the use of the specialist design tools, designPH and the Passivhaus Planning Package (PHPP). Certified Passivhaus designers use this software to input data on local climate, thermal performance for wall, floor and roof constructions, ventilation design efficiency, fuel sources and internal heat gains.
"Buildings that are independently certified as having achieved the Passivhaus standard are ensured to provide internal comfort standards that are of the highest standard in terms of warmth and air quality, for the absolute minimum expenditure of energy and fuel costs." 
"That kind of rigour had been lacking in UK understanding of sustainable design - and we still get some people asking if being airtight means that you can't open the windows! Of course you can - it's more about making sure that air doesn't escape when you don't want it to."
The UK is aiming for net zero carbon emissions by 2050, with 29 per cent of current emissions coming from buildings. 
"Every new building that we construct adds to the overall emission total so it is vital that they are built to the best practical standard of energy efficiency," said Mark.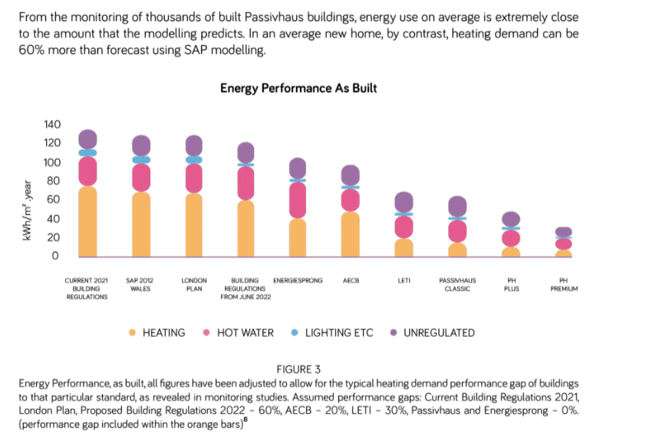 The energy performance gap between current building regulations and Passivhaus standards.
(Passivhaus Trust)
"Equally, if we don't do this for all new buildings now, we run the risk of having to retrofit them before 2050 to meet the emissions targets. 
"Furthermore, in the midst of a cost-of-living crisis, constructing new homes that have high energy costs to provide comfortable living standards is simply handing residents' money to the fossil fuel industry. 
"For builders, Passivhaus offers a way to contribute positively to the built environment and the skill and understanding required to build to Passivhaus standards will set them apart in the marketplace." 
Mark also explained what homebuyers should look for if they want a sustainably designed home. 
"The largest impact that homes have on their environment is via space heating for which greenhouse gas emissions are either emitted at source via burning natural gas, oil or wood so minimising the need for this is priority number one. 
"Secondly, demand for hot water can have similar fuel impacts and a lot can be done at the design stage to make a hot water system as efficient as the heating system. 
"Thirdly, environmentally friendly homes should provide healthy living conditions, particularly in terms of internal air quality.
"Finally, consideration should be given to the embodied energy and carbon emitted in the fabrication and construction process for new home. Selecting eco-friendly structures, natural insulations and facing materials should all be considered alongside operational energy impacts." 
For those already living in their ideal home, there are ways to bring the building closer to the Passivhaus standard, including the addition of insulation, upgrading windows, and new heating systems.