Alton Runners impress in The Serpent Trail
Sunday 24th July 2022 6:00 am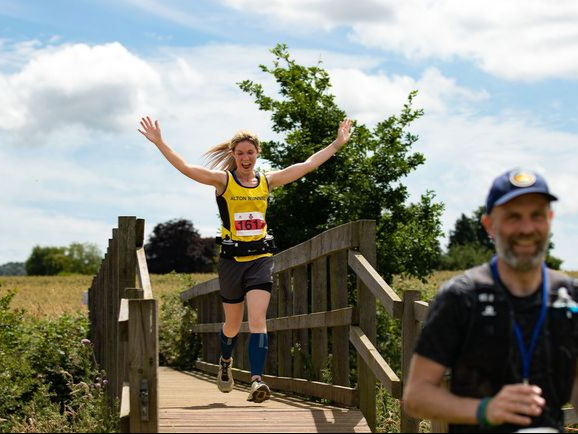 Abbie Hook has a spring in her step
Subscribe newsletter
Subscribe to our email and get updates right in your inbox.
The Serpent trail is a beautiful long-distance route within the South Downs National Park, snaking from Haslemere to Petersfield.
Each July, Petersfield Rugby Club – the tail of the route – becomes home to the hugely-popular Salomon Serpent Trail race village, finish line and camping area.
Runners can choose a distance of 10k, 20k, 50k or the full 100k and are supported in running through habitats rarer than rainforest on this special journey through the greensand hills, lowland heath, woodland and the river meanders of Surrey, Sussex and Hampshire.
Among more than 1,000 crew and runners, at least 30 Alton Runners lined up across the start lines, from the 100k start in Haslemere to the 10k in Trotton.
Club member and coach Richard Taylor has fond memories right from the outset. "This event has everything an adventure runner could wish for – stunning trails, wonderful organisation, enthusiastic volunteers and a festival-like atmosphere," he said.
"One particular highlight of the 20k race started even before Tom, the race director, blew the horn. We had around 20 minutes to compose ourselves in a field next to the main trail.
"Every time a 50km runner passed by, the crowd of more than 200 people clapped and cheered. It was touching and inspiring to share this moment of collective respect and encouragement for one another. I went on to finish sixth, and first in my age category.
"Another major highlight was spending the rest of the day cheering fellow runners and friends back over the finish line. We must have had a record number of club members becoming ultra marathon runners that day.
"They had been diligently training for several months, so there was much to celebrate. Talking of which, we didn't stop partying until well after the tail runners crossed the finish!"
One of those training for her first marathon this year was Jo Scawn, who missed out on a spring marathon because of illness but instead conquered the 50k Serpent distance as her first longer race.
"Jennie Routley and I had a brilliant time!" she said.
"We fuelled well and the strategy was to walk the hills, which left us both feeling good until about 30k.
"The last few miles were very tough but the scenery was absolutely beautiful and we loved seeing new parts of the route.
"The race organisation was brilliant and it was so great to have the support from other Alton runners.
"Camping after racing 50k was not my brightest idea but pizza and beer with friends from the club, and hearing about other races, was fantastic! I will definitely be doing it again!"
Jenny French is another club member already keen to return. "I'm unable to run at present but when I saw walkers were welcome, I decided to walk the 20k option," she said.
"One by one, fellow Alton Runners on the 50k route passed me with a cheery hello and I think it gave us all a boost to see each other – and they were there at the finish line to cheer me in.
"Having opted to join the camping group, one highlight was sitting in a round eating pizza, drinking beer and cheering home the 100k finishers into the night.
"I will definitely do this again and maybe I will even be able to run some of it next year!"
New to the race was fellow club member Gordon Law, who was lured away from a different kind of competition to run the 20k. "The 2022 Serpent trail was my first participation in an event everyone I spoke to who had run before said was a truly wonderful running experience – they were not wrong," he said.
"I was actually due to play in a golf competition the same weekend, but I'm glad I gave into my fanatical running wife's insistence that I get the camping gear out and try running the first (almost) half marathon distance in two years.
"Completing the 20km race felt like more of an achievement than winning the golf last year!
"I don't have much experience of organised running events but a truly beautiful race route, the usual tremendous runner camaraderie plus a party atmosphere that didn't stop from Friday night to Sunday morning made this a magnificent occasion for everyone.
"I have huge respect for the tough souls who completed the 50km and 100km races. Seeing the effect a cheering crowd of cowbell-ringing well-wishers had on many of the runners as they emerged from the woods for the final 100 metres was fantastic."
Runner Vanessa Kellie has different plans already in place for next year.
"I was going to be pacing my friend for the last section of the 100k, but decided I'd enter the 10k race for something to do while I waited," she said.
"This would have been a great idea except I'm an ultra-runner who hates running fast!
"I figured I'd go out fast, hopefully be overtaken by all the women early on then just settle in and relax.
"I set off at a too-fast pace and two women immediately shot past me as per the plan. I pushed on through for what seemed like an eternity, assuming others must have passed me at some point, and was astounded that I did indeed come third!
"I was super chuffed with this as I'd worked hard for it, but will be getting straight back to the long and slow races now. I know my place!"
Esther Park is a long-distance club member and made the journey from Korea to take part.
"Last year I spectated this race to support friends from the club. Back in Korea, runners at the time had to wear masks, even outside, and it was really touching to see people crossing the finishing line full of joy, so much so I almost cried," she said.
"This year I wanted to take part so entered the 20km. The route was incredibly beautiful and the event so well organised with a fantastic atmosphere, I will remember it for a long time, smiling."
The event was a special occasion for many and none more so than Tracey Irwin, who knew she would be celebrating all weekend.
"I set myself a challenge to do 50k to mark my half century.
"The Serpent always proved popular with Alton Runners and happened to fall on my birthday weekend – perfect!" she said.
"I was very fortunate to have Richard Scrase, Emily Parker and Pippa Perrett agree to join me and we did a lot of our training, especially the long runs, together. They made the day achievable and, more importantly, enjoyable!"
Emily said: "Our group consisted of ultra-marathon novices and at the start of the race, the race director asked for a show of hands as to whose first ultra-marathon this was. It was surprising that a sea of hands shot up, but also comforting to know many of us in this wave were novices.
"The race itself was somewhat of a nine-hour blur, mostly enjoying the beautiful and rewarding views after trekking up a hill, savouring the snacks – and great flapjacks – at the checkpoints and trying to stop Pippa from singing Baby Shark.
"It was a fantastic feeling to cross the finish line and an amazing achievement that I would not have been able to get through was it not for Tracey's superb challenge and the company of my running buddies."
The beauty and scenery of the route is one of the highlights of the race and the relationship between the South Downs National Park Authority and race organisers Freedom Trail Racing is a vital partnership of mutual benefit.
Olivia French, the SDNPA's communications and engagement officer, said: "The race has been fantastic in raising the profile of the Serpent Trail and furthering awareness of this incredibly rare heathland habitat found in and around the national park."
Race director Tom Sutton agrees: "The Serpent Trail is a beautiful route and we love being able to show it to people and help look after it during the year, to help keep it accessible for everyone, as we work with the SDNPA.
"The race is a high point of our year and we very much hope it is the same for everyone who took part."
Comments
To leave a comment you need to create an account. |
All comments 0