Aston Defib Fund needs our support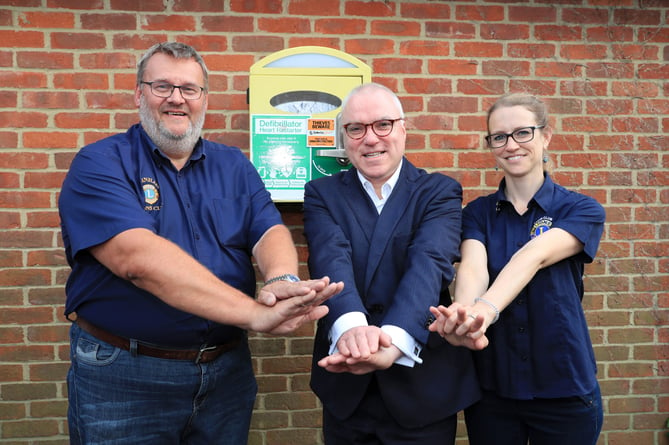 ADF trusees Keith Harris, Prof Tom Quinn and Jo Michaelides
Subscribe newsletter
Subscribe to our email and get updates right in your inbox.
THE ASTON Defibrillator Fund (ADF) has appealed for companies, organisations and local groups to support its maintenance of life-saving defibrillators across the Farnham area in the face of rising costs.
The ADF, launched in memory of Farnham man Keith Aston in 2019, has now identified almost 60 public access defibrillators (PADs) across the town area – including 20 it has installed itself since launching three years ago.
Its roll-out of PADs in the town's 'defibrillator blackspots' has been slowed down by the pandemic – but the ADF has still installed a number of PADs since early 2020, at:
 NRT Carpentry, Badshot Lea,
 St Mary's School, Frensham.
A new PAD is also on order for the telephone box on Boundstone Road, where previously there was no defibrillator within 800 metres. And it is hoped a further PAD will soon be installed opposite Waitrose in Lion & Lamb Yard.
But having bolstered the town's network of PADs, the ADF is now facing the significant challenge of maintaining the devices amid spiralling costs.
Since 2019, the cost of electrode pads, which must be replaced every two years, has risen 25 per cent from around £30 to £40 each.
As such, the cost of maintaining PADs is now estimated at £110 per device annually, which the ADF needs ongoing funding to help meet.
It is also in need of more volunteers to sign up as PAD 'guardians', giving as little as 30 minutes of their time every two weeks, as well as a dedicated fundraising and PAD installation team.
Anyone interested in supporting the ADF should visit the website astondefibs.org.uk or email [email protected]
Comments
To leave a comment you need to create an account. |
All comments 0