Climate activists against the dumping of untreated sewage into our local chalk streams and rivers installed satirical blue plaques in Farnham, Alton, Godalming and Guildford last weekend to highlight the shocking state of our waterways.
It came as part of Extinction Rebellion's national Dirty Water campaign, which aims to highlight the inaction by government to address the ongoing problem of raw sewage and agricultural runoff polluting our waterways, including the Wey.
The inscriptions on plaques exposed the voting record of local MPs on October 20, 2021, when the government failed to tighten environmental regulations and require water companies to dump less raw sewage in our waterways.
In Alton, members of Extinction Rebellion, Binsted Eco Network, Frensham Fly Fishing, Alton and Villages Local Action for Nature (AVLAN) and town and district councillors were in attendance for the plaque unveiling
(Extinction Rebellion)
In Alton, on Saturday, January 28, a satirical blue plaque was unveiled 'commemorating' East Hampshire MP Damian Hinds abstaining from the vote by members of Extinction Rebellion, Binsted Eco Network, Frensham Fly Fishing, Alton and Villages Local Action for Nature (AVLAN) and town and district councillors.
In Gostrey Meadow, Farnham, a blue plaque stating 'The UK Government voted to block a law requiring water companies to dump less raw sewage in our waterways and seas' was unveiled by members of XR Waverley.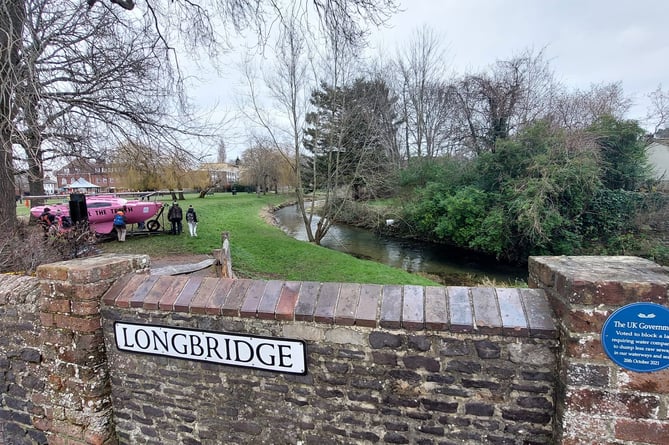 The Extinction Rebellion pink boat and plaque in Gostrey Meadow, Farnham
(Extinction Rebellion)
The Farnham protest was also joined by the famous pink XR boat, Beverly Geronimo, veteran of many previous XR climate actions, with its messages of 'Act Now' and 'Tell The Truth'.
Young XR rebels implored politicians to protect our waterways and wildlife, in impassioned speeches.
Grace Watts, aged 10, worries about "the many ways in which humans are harming nature and actually destroying our own habitat. One way is by allowing our waters – ours seas, our rivers, our lakes and ponds and streams – to become so filthy and toxic that they are becoming unsafe".
Peyton Hart, aged 13, told bystanders: "An amendment was proposed to the Environment Act which would have required water companies to demonstrate improvements in their sewerage system and to reduce the harm done by untreated sewage discharges. But the Government didn't take this chance, they voted against it."
Daniella Ereny, aged 25, from XR Farnham posed a direct question to Jeremy Hunt, who also abstained from the October 2021 vote, asking why he had made his choice to abstain rather than protecting our rivers and seas.
In Godalming, another blue plaque was unveiled, stating 'Jeremy Hunt MP abstained on a vote requiring water companies to dump less raw sewage in our waterways and seas'.
The government's failure to properly tackle the issue of sewage pollution has been hugely controversial.
Waste water is routinely dumped into local water courses, particularly after heavy rainfall which XR says will get more frequent and intense with climate change.
Only 14 per cent of the UK's rivers achieve "good" ecological status with pollution from agriculture, human sewage, roads and single-use plastics creating a dangerous "chemical cocktail" in our waterways.
According to The Rivers Trust, the River Wey itself has been rated poor to moderate.
An Extinction Rebellion poster by the River Wey in Alton
(Extinction Rebellion)
Last summer, XR says more than 100 beaches were also closed to the public after a series of sewage discharges by water companies left the sand and sea contaminated with human sewage.
But in December the Environment Agency announced it was pushing back targets to clean up England's rivers, lakes and coastal waters from 2027 to 2063, prompting outcry.
Adrian Friend, from Medstead, said: "It's difficult to understand why an MP would abstain from voting for such a common-sense approach to ensuring our water companies meet their environmental obligations. No-one benefits from the discharge of sewage except the shareholders of the water companies – decades of profits ahead of the people."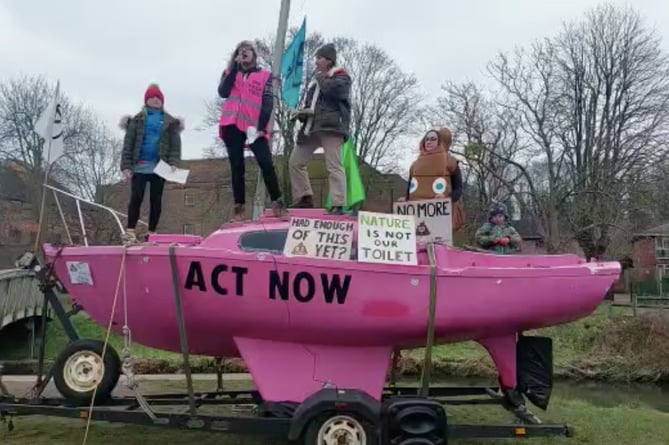 The Extinction Rebellion 'pink boat' in Gostrey Meadow, Farnham
(Extinction Rebellion)
Both Jeremy Hunt and Damian Hinds have defended their records on water pollution in the wake of the protests.
South West Surrey MP and Chancellor of the Exchequer, Jeremy Hunt, said: "I have been campaigning to clean up our rivers for the last 18 months. I held a public meeting in Bramley towards the end of last year along with senior representatives from the EA, Thames Water and Southern Water which was attended by over 70 local residents.
"Whilst we all agree that a long-term plan for cleaner local water is needed, I am glad that both water companies have now committed to improve local water quality over the next two years.
"One of the first decisions I took as Chancellor was that money from water company fines will be ring-fenced for work to fix pollution and improve water quality. I believe this will make a real difference to the environment in South West Surrey and across the country."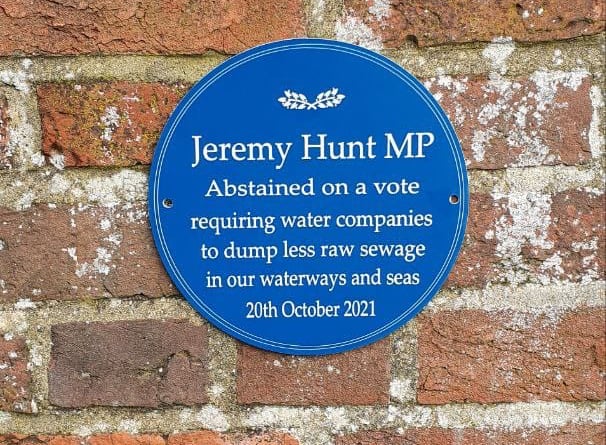 Extinction Rebellion's blue plaque dedicated to MP Jeremy Hunt in Godalming
(Extinction Rebellion)
While East Hampshire MP Damian Hinds said: "Obviously, no-one wants to see sewage discharges from storm overflows.
"These overflows are a result of Victorian plumbing, where pipes for wastewater and surface water were combined.
"This means when it rains heavily, overflows act as a valve to stop water backing up into people's homes. All new pipes are separated, but there are still tens of thousands of miles of piping that are not.
"In 2013, the government instructed water companies to monitor sewage overflows for the first time. This is why we are now seeing the extent of the problem.
"Water companies are now, quite rightly, subject to a regulator expectation to prioritise investment in the environment and tackle sewage overflows, for the first time.
"Plans were set out last year for the largest ever infrastructure programme in water company history, with a total of £56billion to tackle sewage overflows.
"The new monitoring system also makes it possible to crack down on water companies illegally using overflows. In the past seven years there have been dozens of prosecutions. Regulators can fine companies up to ten per cent of annual turnover.
"It is right that we now have greater transparency, greater accountability and a sustained plan to tackle the issue."
There will be further actions in the #DirtyWater campaign in the coming months in the lead up to Extinction Rebellion's gathering at Parliament Square on April 21. Contact [email protected] for more information.