Widespread Covid-19 outbreaks in Farnham and Haslemere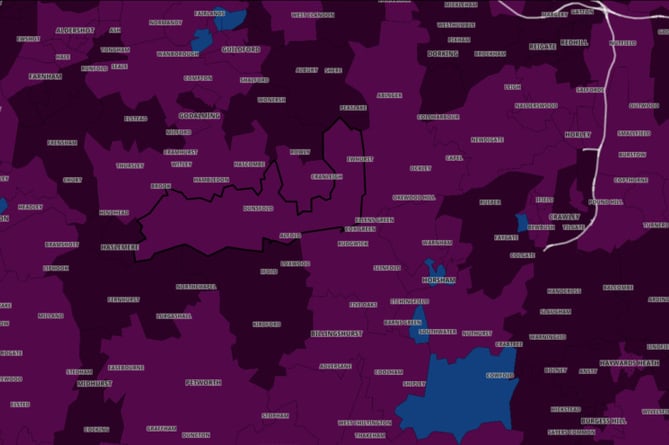 The government's interactive map reveals where infection rates are between 400 and 799 cases per 100,000 people (light purple) and more than 800 per 100,000 (dark purple)
Subscribe newsletter
Subscribe to our email and get updates right in your inbox.
COVID-19 outbreaks in Farnham and Haslemere are driving up overall infection rates across Waverley borough, according to government data.
Waverley was, as of Wednesday, the seventh-worst affected borough in the UK - with a seven-day Covid infection rate of 824.9 cases per 100,000 people, out-stripping the national average of 478.9.
But government data reveals Waverley's infection rate is being inflated by widespread outbreaks of the coronavirus in Farnham and Haslemere.
The areas worst affected include Shortheath (1,241 cases per 100,000 people), Moor Park and The Bourne (1,144), Haslemere East (1,150), Haslemere West (1,078), Wrecclesham (1,044) and Hindhead, Beacon Hill & Frensham (923).
A spokesman for Waverley Borough Council added: "There is increasing concern at the council about the very high levels of Covid-19 infections locally. We are maximising the use of all of our corporate online and social media channels to reinforce the government's key messages on safe behaviours as set out in the autumn/winter plan."
This stresses the need to:
Download the NHS Covid-19 app
Open windows if meeting indoors
Wear a face covering in crowded indoor settings
Get tested and self-isolate if you need to.
However, despite the "worrying" figures locally, MP Jeremy Hunt wrote in his constituency newsletter this week that "the NHS is still not seeing big increases in hospital admissions although it remains extremely busy".
The Waverley spokesman added council staff were being encouraged to work from home "unless there is a clear business need for them to be in the office".
But the council has no option but to continue hosting council meetings in person, in line with government regulations.
Waverley has also confirmed support services remain in place for the borough's most vulnerable residents.
The spokesman continued: "All the support for the most vulnerable offered by Waverley is still in place, just with significantly reduced demand, as most people are now coping in the community. The council's coronavirus help and support pages (www.waverley.gov.uk/Coronavirus) and our signposting helpline service (01483 523 204) are both still operating.
"We receive daily reports from a national team when an isolating Clinically Extremely Vulnerable (CEV) person indicates they need assistance - we then call the individual to understand and facilitate their needs during self-isolation. We can also allocate additional resources to our support services relatively quickly, if there is an increase in demand."
Surrey County Council has confirmed up to five suspected cases of the new Omicron variant of Covid-19 have now been detected in the county.
Figures released this week also reveal 86 per cent of people aged 12 and over in Waverley have now received at least one dose of a Covid vaccination, and 80 per cent a second dose - above the national average of 78 and 72 per cent.
Ruth Hutchinson, Surrey's director of public health, said: "It is never too late to get vaccinated. It is one of the single most effective things we can all do to stop the spread of Covid."
Comments
To leave a comment you need to create an account. |
All comments 0